Latest
Andy Warhol's Much-Awaited Exhibition In AlUla Has Finally Opened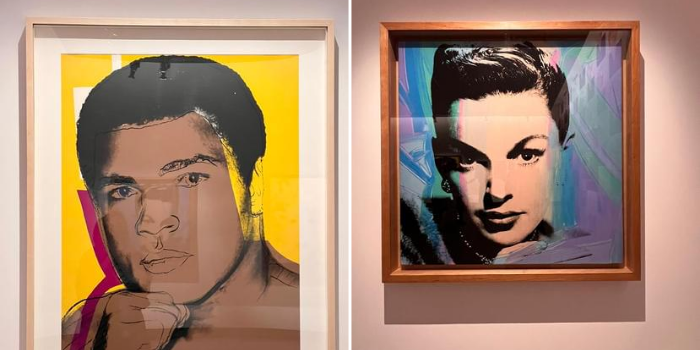 This is the moment art lovers from all over the world have been waiting for: the much-anticipated exhibition featuring the iconic works of Andy Warhol has officially opened in AlUla, bringing the legendary American visual artist's iconic works to Saudi Arabia for the first time.
Many are comparing it to something as significant as the opening of the Louvre Museum in Abu Dhabi.
Happy to have attended the inauguration of "FAME: Andy Warhol in Alula" in #maraya: the first exhibition on Warhol's works in the region, organized by @RCU_SA with @TheWarholMuseum. Yet another reason to visit Alula! #AFALULA @ludovic_pouille @FranceinKSA #warhol pic.twitter.com/m4L7OZGiKm

— Catherine Le Thomas كاترين لو توما (@LethomasThomas) February 17, 2023
This could be one of the most watershed moments in Saudi art history.
"People are always calling me a mirror and if a mirror looks into a mirror, what is there to see?" —#AndyWarhol
Curated especially for Maraya, the mirror-clad arts destination, FAME: Andy Warhol in AlUla celebrates cross-cultural creative change across in the region

#FAMEAlUla pic.twitter.com/QIk4qYwlIO

— Arts AlUla فنون العلا (@ArtsAlUla) January 24, 2023
The FAME: Andy Warhol exhibition is being held at the breathtaking Maraya venue and features some of the visual artist's most acclaimed paintings, prints, installations, and archival photographs.
The opening of this exhibition also marks the beginning of the AlUla Arts Festival; a programme of performances, talks, and workshops that will accompany the exhibition, including The 13 Most Beautiful, a projection of Warhol's silent films set to a live soundtrack.
Today I am launching an Andy Warhol exhibition at Maraya #AlUla, Saudi Arabia. Yes you read correctly #FAMEAlUla #AndyWarhol @ArtsAlUla pic.twitter.com/uTGgS3UGY8

— Zoe (@ZoeShurgold) February 16, 2023

Warhol was born in Pittsburgh and grew up with a neurological disorder known as Sydenham chorea. This is reflected in his work, which was heavily influenced by comics and pop culture magazines. After art school, Warhol worked as a commercial illustrator and used the funds to invest in his increasingly experimental and bold artistic career. In the 1960s, his studio, The Factory, became a hit among artists and celebrities and was featured prominently in his work. The rest, as they say, is history!
The exhibition will be running until May 16th, so if you haven't visited AlUla yet, you now have a good excuse to do so.
#AlUla The exhibition "FAME: Andy Warhol in AlUla" is a superb integration of the artist's works in the magical setting of Maraya. Thanks to @RCU_SA & @TheWarholMuseum for bringing it to #KSA!#ArtsAlUla #Festival #Warhol pic.twitter.com/XgZpuy6ro1

— Ludovic Pouille (@ludovic_pouille) February 16, 2023