Feature
Check Out These AMAZING Pictures Of Millions That Gathered At Makkah's Holy Mosque For The 27th Of Ramadan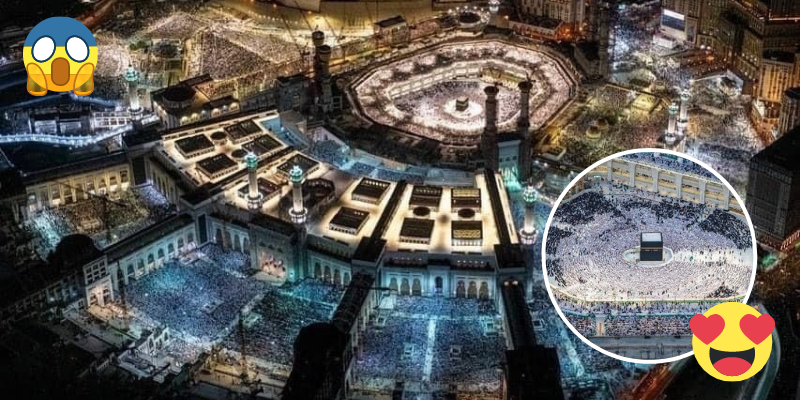 The 27th of Ramadan is a special day for Muslims as they gather for night prayers of Qiyyam and Taraweeh; and the Holy Mosque of Makkah is the best place to do it
Over 4 million people have already preformed Umrah just this Ramadan, as COVID resitrictions eased down this year. With the mosque being closed back in 2020, and strict COVID protocol in 2021, this year's had the most worshippers on the 27th night after 2 whole years. As people were seen up until outisde the Haram, on the roads, and even completely full on the upper floors, the numbers totaled to more than 2 million.
You can see the beautiful unity of this night in these pictures below, take a look!
#Ramadan Day 27:
Over 2 million pilgrims attended Qiyam Al Layl Prayers in Masjid Al Haram, Makkah on the 27th Night of Ramadan this year. May Allah accept our prayers, amin 🙏#RamadanMubarak #LaylatulQadr pic.twitter.com/pQQEDZEF3O

— Gboyega Akosile (@gboyegaakosile) April 28, 2022
You can see people gathering in the afternoon just before the evening prayer to find a spot to pray in the mosque.
In Makkah on 27th night of Ramadan. Subhanallah! pic.twitter.com/dBMaKeMAJR

— Murshed Wahid (@mrwahid7) April 28, 2022
This video shows that people were actually out on the roads!
RIght now at 4:24 am just before Fajr. 27th night. #Makkah pic.twitter.com/I81fu25Y55

— Hasnat 🏏 (@manbehindstumps) April 28, 2022
The Grand Masjid in #Makkah witness huge number of worshipers and pilgrims on the 27th night of #Ramadan2022 pic.twitter.com/ClxwDaW0vo

— Showbiz & News (@ShowbizAndNewz) April 28, 2022
There are soo many people, you can't even see the floors!
I think That Night is Night Of Laylatul Qadr,
Millions Of People Attend The 27th Qiyamul Layl Of Ramadan In Haramain Of Makkah.
May Almighty Made Us One Of The Free Slaves That Night.🌙🌙🌙 pic.twitter.com/Ww886qcYDg

— H.E ABUBAKAR ROGO (@abbakarrogo_) April 27, 2022
So heartwarming to see the mosque so lit up again