Latest
Crown Prince Mohammad Bin Salman Got The Warmest Welcome On His Trip To Jordan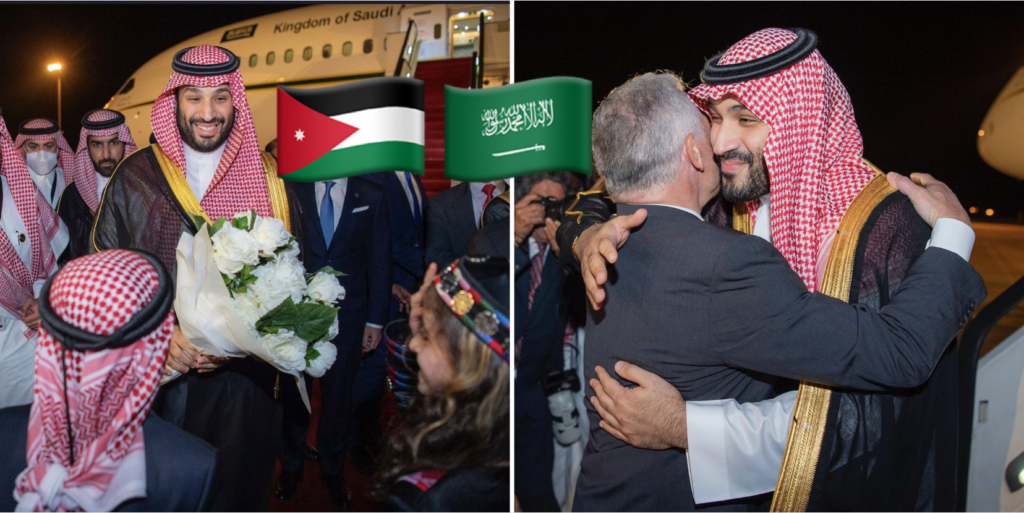 Saudi's Crown Prince Mohammad Bin Salman has officially landed in Jordan last night and got the warmest welcome on his arrival
سمو سيدي #ولي_العهد يصل #القاهرة وفي مقدمة مستقبليه فخامة رئيس جمهورية #مصر العربية.#ولي_العهد_في_مصر pic.twitter.com/AITPolHf4q

— بندر الجلعود (@Bandaralgaloud) June 20, 2022

As soon as the Prince walked out of his plane, flower bouquets and a crowd of government officials welcomes him on his arrival. Children with the cutest little outfits and smiles were also excited to see the Crown Prince, who welcomed them with a warm hug. Crown Prince Mohammed bin Salman began a regional tour last week, on the directives of the Custodian of the Two Holy Mosques, Prince Salman bin Abdulaziz. This tour aims to strengthen relations between the Kingdom of Saudi Arabia and brotherly countries in all fields.
The Crown Prince was also welcomed by King Abdullah II of Jordan and were all smiles
📷 #صور | جانب من مراسم استقبال ملك #الأردن لـ #ولي_العهد لدى وصوله العاصمة #عمّان.#عكاظ#ان_تكون_اولا#محمد_بن_سلمان_في_الأردن https://t.co/hiZirp74eV pic.twitter.com/MGpuH7UWVO

— عكاظ (@OKAZ_online) June 21, 2022
The King also gifted Mohammad Bin Salman a beautiful necklace of Hussein bin Ali,  to symbolize the binding of the two countries. After his meeting with Prince Muhammad bin Salman, the Jordanian monarch stressed the pivotal role of Saudi Arabia in supporting the issues of the Arab nation, and the Crown Prince stressed the Kingdom's dedication to their dual-relations with the aim of starting a new phase of cooperation that will be in the interest of both nations.
The Jordanian community also wished the Crown Prince a pleasant stay in the country via Twitter