Feature
Everyone's Loving These Pictures Of The Red Sea Project's Upcoming Floating Villas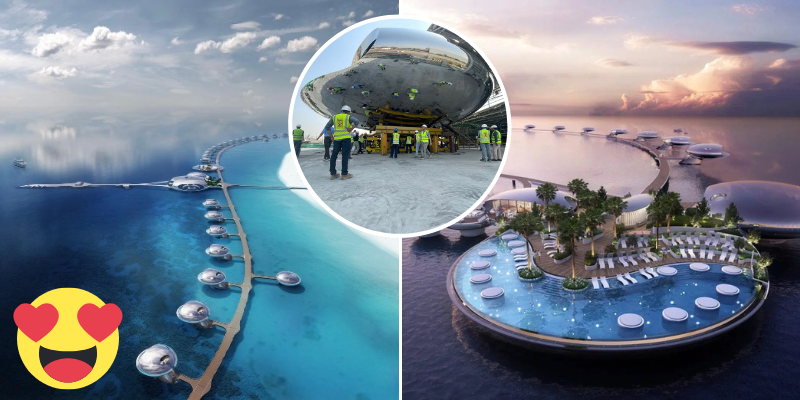 Everyone's obsessing over these recently released pictures of the Shebara Island Villas that look STUNNING
فلل جزيرة شيباره في مشروع البحر الأحمر، والتي ستفتتح قريبًا🇸🇦😍 pic.twitter.com/2FchnIkWgS

— Screen Mix (@ScreenMix) August 28, 2022
This awesome structure is part of the nation's Red Sea Project which is looking to transform vacationing and leisure in the country. Jeddah is looking to soon become the next maldives with this upcoming getaway! Also part of Vision 2030, this project aims to become the top luxury destination consisting of 28 THOUSAND square kilometers of 90 islands! The destination will also feature canyons, resorts, mountains, and heriitage sites! Get ready to watch Jeddah totally transform with the upcoming leisure and residential properties.
One of the external structures for the villas was completed earlier this year for the islands
اكتمال الهيكل الخارجي لإحدى الفلل الفندقية العائمة التي سيتم تركيبها في منتجع جزيرة شيبارة في #وجهة_البحر_الأحمر pic.twitter.com/vdM2cxQNSq

— مشاريع السعودية (@SaudiProject) April 16, 2022
Pictures circulated all over Twitter, to which people reacted with utmost excitement.
إبداع🇸🇦❤️

— Ali (@aalaith1st) August 29, 2022
مبرووك😍💥

— ﮼سيزار •🇮🇹 (@oj9jo) August 28, 2022