Feature
Here Are 5 Activities To Make Your 2023 Full Of Adventures In Jeddah This Weekend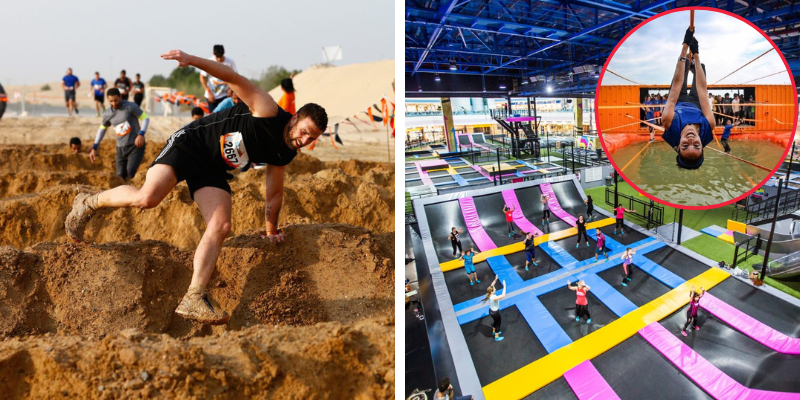 The new year is finally here and having an adventurous experience is the kind of resolution everyone wants. Jeddah is actually the perfect place to enjoy all kinds of fun activities with the squad, and this list is full of them. Grab some friends, this list, and your best energy to hit the road out for some adventure the city!
5. Feel the adrenaline at Al Shallal Theme Park
View this post on Instagram

This place is full of all different activities that will enhance your adventure spirit, that you need to try out ASAP. Go ice-skating with friends, compete for a bunch of tickets at the arcade zone, or enjoy some butterflies in your tummy on their thrilling rides 👀.
Location: 8467 Al Kurnaysh Road, Ash Shati District, Jeddah
Timings: Monday to Sunday, 6 pm to 1 am
Ticket price: SAR 35 per person
4. Enjoy a Jeddah sunset jet skiing with friends
View this post on Instagram
If you're looking for something fun but mellow, then enjoy the Jeddah winds in your hair, water splashing on your face, all with a stunning view of the sunset! Jetskiing is a popular activity in Jeddah especially during sunset, and it's all the adventure you need.
Book your next ride here!
3. Get your parkour on at Tough Mudder Jeddah
View this post on Instagram
If you're looking to put your parkour skills to work, then Tough Mudder Jeddah is the place you need to be. Bring your friends, family, or go solo while you fight through a selection of obstacles, problem-solving activities, and a ton of mud! Best part is, you can pick your own course of their 5k, a non-competitive 10k, a timed 10k course, and even Mini Mudder for the little ones with +21 obstacles! This legendary experience is coming to the city on January 21, and you need to get all the deets ASAP!
Place: Jeddah at King Abdullah Sport City
Tickets start from SAR 120 for the Tough Mudder course and SAR 40 for Mini Mudder, grab them here
Click here for more info on this awesome event!
2. Compete for the victory at Jeddah's coolest GoKarting spot
View this post on Instagram
IN10SO is one of the top places to let out all your adventurous side in Jeddah. From GoKarting, bowling, laser tag, to many other activities, this spot is essential for all adventure lovers. Make sure to bring along the squad because this spot is definitely an ideal 2023 group activity.
Timing: 4pm-12am
Location: Serafi Mega Mall 3rd Floor
Price: Get info here
1. Jump into the new year at an awesome trampoline park
View this post on Instagram
What better way to release all the 2022 stress than to jump it all away? Bounce Jeddah is the place to walk in with all the baggage, and bounce it all away in minutes! The awesome setup, amazing vibes and fun activities make this place a perfect spot for you to jump into a great 2023.
Timing: Sunday-Wednesday: 2pm-10pm, Thursday-Friday 2pm-12am, Saturday 12pm-10pm
Price: starting from 89 SAR, get more info here
Location: Al Naim district