jeddah
Jabal Al Lawz Has Turned Into Its Own Winter Wonderland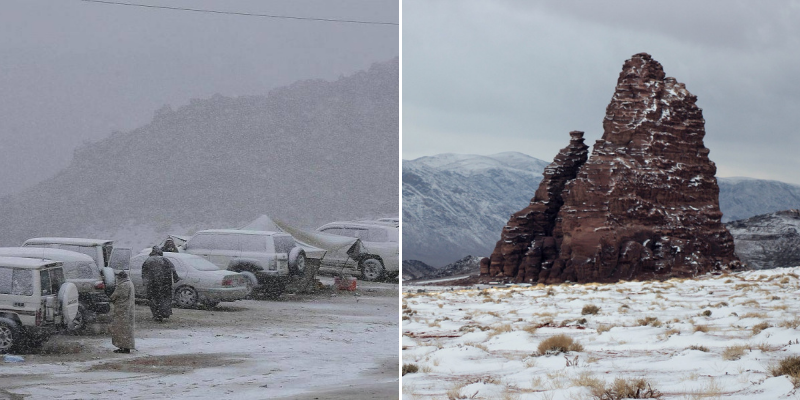 Residents of Tabuk just got an amazing start to the new year, with beautiful snow!
Jabal Al Lawz had turned completely white on New Year's morning, with snow covering several areas in the region.
#جبل_اللوز#تبوك
W E L C O M .. B 2 C K ❄️📮 pic.twitter.com/JgVhzar35N

— ١٩٩٥ م (@s_6rb) January 1, 2022
Videos of children playing with the snow, hikers celebrating, and people driving in from all over the GCC, exhibit all the excitement and fun of such weather!
Many hikers were seen enjoying the snow through singing and dancing!
Snow covers large areas in #Tabuk.#تبوك #تبوك_الان #السعودية #Snowfall #SaudiArabia pic.twitter.com/hFTHPyzwBb

— مريم (@6BuvmHy5JgN3fRo) January 1, 2022
They include impressive views of the winter wonderland all the snow has created.
"الدحة" استقبال الزائر الأبيض في #جبل_اللوز . #تبوك #ثلوج_تبوك

— تبوك عاجل 🇸🇦 (@AjlTabuk) January 1, 2022
A Qatari citizen who had visited the site had said: "Our people in Qatar did not believe that dazzling snowfall scenes exist in the Kingdom."
تبوك اليوم..لوحة بيضاء ساحرة.#ثلوج_تبوك

— أخبار السعودية (@SaudiNews50) January 1, 2022
The beautiful region of Tabuk has boosted tourism for the country, prompting travelers to appreciate the natural beauty of Saudi Arabia.