Latest
Lionel Messi Actually Congratulated Turki Al Sheikh On His New Film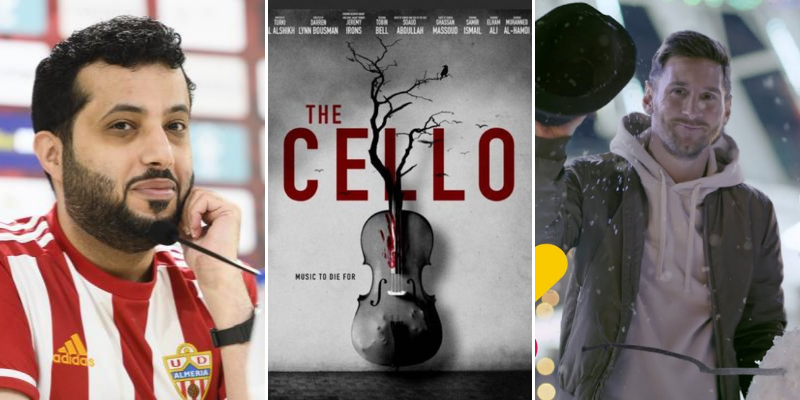 We reported earlier on how a Hollywood horror flick called Cello that was written by Turki Al Sheikh recently wrapped up production. Many took to social media to congratulate Al Sheikh as the first poster of the movie released. One of them was Lionel Messi and Saudi Twitter erupted with joy.
Lionel Messi shared a story with his over 280 million followers (he's the 3rd most-followed person on the planet) that had a poster of the film with a caption that read "Congratulations for the film". He tagged Turki Al Sheikh on his story.
شكراً صديقي العزيز … اعظم من يلعب كرة القدم في العالم الان 🇦🇷❤️ وادعو الجميع لعدم متابعة العمل … لا تشوفوه ! انا عامله اشوفه وحدي ! 🥳🤷🏻‍♂️🧟‍♂️😂 🎻 واهم شي يعجبني اااانا 😜👀🔥🧟‍♂️🎻🎻🎻🎻 pic.twitter.com/K7VeZV8vBU

— TURKI ALALSHIKH (@Turki_alalshikh) November 7, 2021

His Saudi fans of which there is no shortage of were quick to pick it up and congratulate Al Sheikh. While Cello was under the radar for a long time, this post by Lionel Messi has clearly gotten it huge amounts of attention. Dareen Lynn Bousman, best known for directing a series of Saw films, directed the horror thriller, which stars Oscar winner Jeremy Irons (House of Gucci) and Tobin Bell (Saw).
The film was shot in Saudi Arabia and the Czech Republic. The narrative revolves around an aspiring cellist who realizes that his brand-new instrument is far more dangerous than he anticipated, according to Deadline. Saudi Arabia-based Rozam Media funded and holds the rights to the film.
While a precise release is yet to be announced, a post retweeted by Turki Al Sheikh suggests it would be sometime in 2022.
🎻🤷🏻‍♂️ 2022⏳ pic.twitter.com/xSYvwwys5b

— رزام | Rozam (@RozamMedia) November 3, 2021