Feature
Makkah's Grand Mosque Is Now The Most Sterilized Place In The WORLD Thanks To These Robotic Sanitation Machines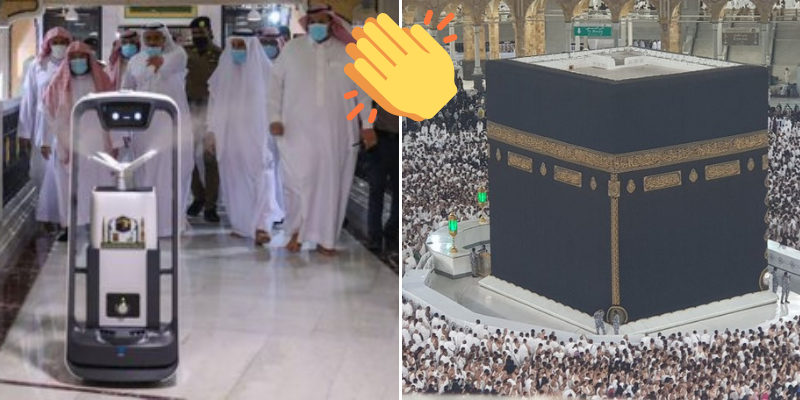 The Makkah Grand Mosque is a popular location for the 27th of Ramadan with around 2 million Muslims coming in for worship and prayer
BREAKING NEWS | More than 2 Million Pilgrims and Visitors attended Qiyam Al Layl Prayers in Masjid Al Haram, Makkah on the 27th Night of #Ramadan 1443 pic.twitter.com/r8ETXNY6oF

— Haramain Sharifain (@hsharifain) April 27, 2022

Considering how over 4 million people have already preformed the Umrah journey, The Grand Mosque is getting visitors by thousands on a daily basis. Due to the heavy inflow, the General Presidency for the Affairs of the Two Holy Mosques has provided 11 robotic sterlization machines to minimize the spread of COVID and diseases. These robotic machines have made such an impact that the holy mosque is now the most sterilized place in the WORLD.
These robots can move around automatically, sterlizing the premises as they move, and can last from 5 to 8 whole HOURS
A robot to sanitize Al Masjid Al Haram has been launched. #makkah #umrah pic.twitter.com/DMv4H0pITo

— PullmanZamzamMakkah (@PullmanMakkah) October 7, 2020
The night of the 27th included more than 70 task forces, 700 workers, 100 supervisors, as milllions gathered at the holy site for Taraweeh and Qiyyam prayers. This is the first time, since the COVID outbreak in 2020, that the Holy Mosque has witnessed millions of worshippers on this holy month. It is amazing how the holy month of Ramadan gathers people worldwide in unity, especially after 2 years of strict preventive measures.