Latest
Saudi Arabia Gets Its First-Ever Volcano Camp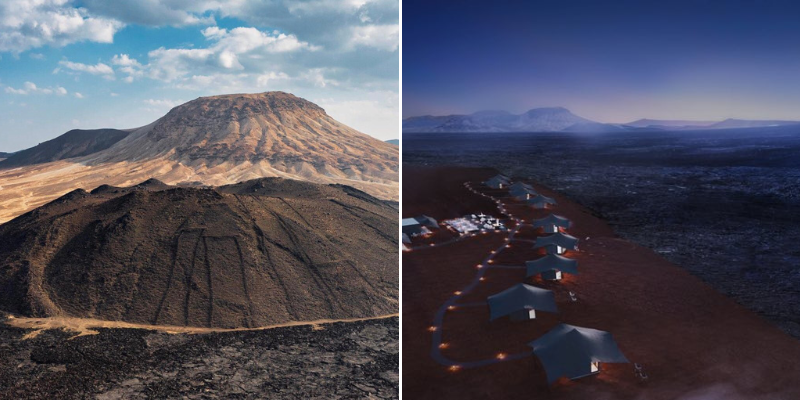 Nature lovers have got a new place to spend the cool winter nights this season as a camp located right by a dormant volcano has opened to the public.
Set up by the Royal Commission for AlUla, the Khaybar Volcano Camp, which sits right by Jabal Al-Qadr, was established by the Royal Commission for AlUla.
The volcano that the camp is located adjacent to was listed as one of the top 100 geological sites in the world by UNESCO.
The "Khayber" Volcano camp, north of the city of Khaybar in the Medina region, in the west of the Kingdom of Saudi Arabia #SaudiArabia 🇸🇦..

مخيم بركان "خيبر" شمال مدينة خيبر التابعة لمنطقة المدينة المنورة، غرب المملكة العربية #السعودية 🇸🇦.. pic.twitter.com/iW0FEAjT7f

— The Jeddah Times (@thejeddahtimes) December 14, 2022
Imagine sleeping under the stars with one of the finest artworks of nature right in front of you. It's been designed so beautifully that it appears to be in sync with the surrounding terrain. The surrounding terrain is made up of ancient lava fields.
There are plenty of excursions to be had here besides the obvious trek to the top of the volcano.
The Umm Jirsan Cave, which is the Kingdom's longest lava tube system, is also not far from here. The place truly is a nature lover's dream.
في رحلة لحرة خيبر برفقة عدد من الزملاء شاهدنا جبل القِدر البركاني، الذي صُنف ضمن أفضل 100 موقع جيولوجي .. اثناء الرحلة زرنا #مخيم_بركان_خيبر الذي عملت على إنشائه الهيئة الملكية لمحافظة #العلا pic.twitter.com/IV21nGQs6H

— بدر الجبل (@BADRALGBAL) December 14, 2022