Latest
Saudi Arabia Is Gifting Free Copies Of The Quran To All Departing Pilgrims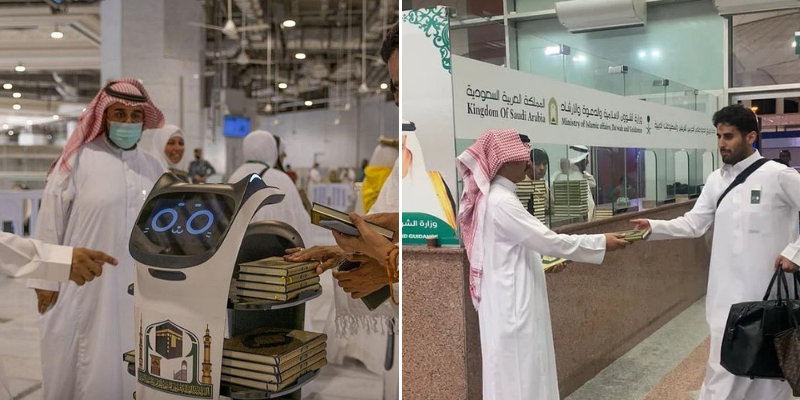 Hajj season is over and it's now time for pilgrims to depart and being the generous hosts they are Saudi Arabia is giving our all departing pilgrims copies of the Quran.
Over 1 million copies of the Quran in various font sizes and translations are being distributed to pilgrims, according to a report in the Arab News. The translations that are being given out are in 76 languages.
Almost everyone departing from a port by land, sea, or air is given a copy as the ideal hajj keepsake.
Not only that, these copies of the Quran are even being given out to Hajj workers.
The Ministry of Islamic Affairs gifts 1 million copies of the Quran to pilgrims departing at King Abdul Aziz International Airport in Jeddah. #Hajj#Hajj2022#الحج pic.twitter.com/J1MzcsecvM

— Haramain Archive (@haramainarchive) July 12, 2022
There's even a fancy robot in Masjid Al Haram that's distributing the copies of the Quran.
Saudi Arabia's authorities introduce a robot that bids farewell to Hajj pilgrims and handout copies of the Holy Quran#Saudi #SaudiArabia #HajjMubarak #Hajj2022 pic.twitter.com/yzhkCQ5vM2

— Leaders MENA (@leadersmena) July 11, 2022