jeddah
Saudi Continues To Celebrate Equality With These 4 Saudi Women Working At A Garage!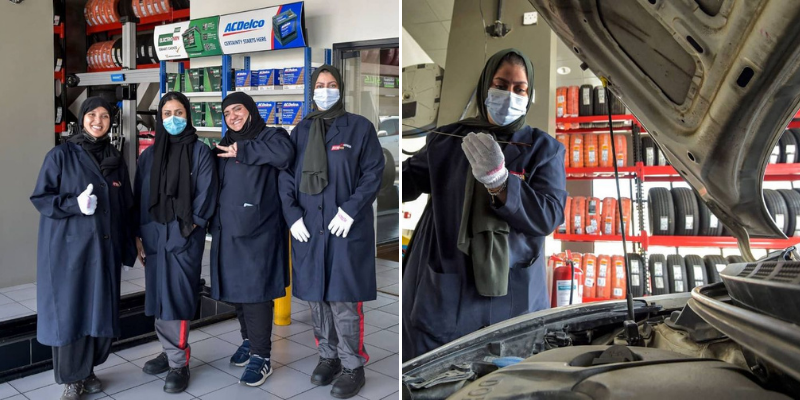 Saudi has been impressing the whole world, with its progression and innovative ideas.
It only gets better with these 4 powerful women that are seen to be working at a service garage in Jeddah.
View this post on Instagram
The smiles on their faces say it all!
Seen doing all relative mechanical tasks from hood checks to lifted checkups, these ladies have got it all covered!
Saudi has yet again shown its constant dedication towards progression and equality, providing more opportunity for women.
#ICYMI: According to a 2017 Arab News/@YouGov poll titled 'Saudi Women can Drive,' almost eight in 10 Saudis who reside in the Kingdom agree with the decision to allow women to drive https://t.co/KXTrdFBZrP pic.twitter.com/5eWJsrXMWv

— Arab News (@arabnews) October 20, 2020
It started with equal opportunity back in 2018, when the Kingdom officially allowed permission for women to drive.
Saudi has also worked on other issues for women, related to pensions, workplace rights, sexual harassment, and mobility.
From leadership in sports to the stock market, today we celebrate #InternationalWomensDay, and take a moment to recognize the strides made by #Saudi society in favor of women's empowerment and gender equality. pic.twitter.com/MTOTFMLVNx

— Saudi Embassy (@SaudiEmbassyUSA) March 8, 2021
In June this year, Saudi Arabia announced it will allow women to live alone, without permission from a male guardian.
Women can now drive in Saudi Arabia. The sky's the limit.

— Klatu (@KlatuSays) May 31, 2020
Witnessing equality and opportunity in action for Saudi and its women is quite exhilarating!