Feature
Saudi Student Itizaz Alnefaie Has Become A National Sensation After Her Win At The World Mental Arithmetic Competition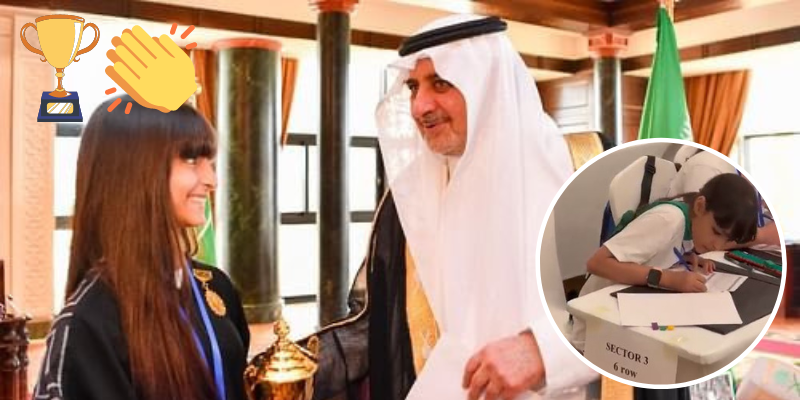 Itizaz Alnefaie has made Saudi proud with her second place win at the World Mental Arithmetic Competition and is becoming SUPER popular for it
الطالبة السعودية الصغيرة اعتزاز النفيعي تحقق المركز الثاني عالميًا في مسابقة الحساب الذهني "العبقري الصغير". pic.twitter.com/9bdl5rlqgA

— الموجز السعودي (@saudistuff) June 3, 2022
Just a few days ago, Alnefai wowed the masses with her major arithmetic skills. Up against hundreds of other pupils from over 25 countries, Alnefai solved problems in seconds, winning second place at the competition.
Alnefaie actually BROKE the world record by solving 100 problems, completing each in just seconds
أمير #تبوك يكرّم الطالبة "اعتزاز" الفائزة بالمركز الثاني في مسابقة الحساب الذهني.

https://t.co/SrYDsc7TbP pic.twitter.com/w7sNkvzt9q

— صحيفة سبق الإلكترونية (@sabqorg) June 7, 2022

The sensation was also just welcomed by the Tabuk Governor Prince Fahd bin Sultan, who was all smiles to meet her. The prince also offered Alnefaie his personal pen as a gift!
وتنضم ابنتنا اعتزاز النفيعي الى قائمة الكوكبة المتألقة من ابناء وبنين الوطن الغالي ابناء سلمان وابو سلمان حفظهم الله ورعاهم من كل شر ومكروه .
ولا يزال الابداع والنجاح السعودي مستمر بعون الله وتوفيقه بمشيئة الله .🇸🇦🌷🇸🇦💐🇸🇦🌹🇸🇦👍👌

— طارق بن محمد رشوان (@TariqRashwan2) June 4, 2022
After seeing the video of her AMAZING solving skills, Itizaz has won Twitter's hearts with hundreds of positive and supportive tweets.