Feature
Saudi's First Official Flag Day Celebrations Were In Full Swing Yesterday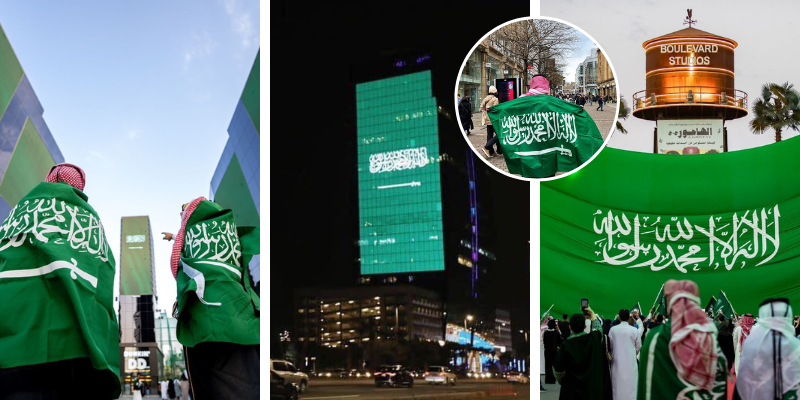 Yesterday marked yet another historic holiday for the Kingdom, as the country lit up to celebrate Saudi's first-ever flag day. March 11 will now officially be Saudi Flag Day, as announced by HH King Salman last week 🙌
The cities of Saudi lit up in green to celebrate!
View this post on Instagram
Riyadh was painted green as iconic buildings like Faisaliyah Tower, Kingdom Tower, and KAFD's skyscrapers lit up in green. People were seen walking all over the city with the Saudi flag on their cars, shoulders, and waving them around in their hands ❤️.
Riyadh Boulevard City also celebrated in the best spirit 🎉
View this post on Instagram
The streets of Jeddah were also decked out in green on this special day
#jeddah streets in #saudi flag day pic.twitter.com/uAP6394RAr

— Life in Saudi Arabia (@LifeSaudiArabia) March 10, 2023
Even the little ones got to celebrate in school!
Proudly celebrating Saudi Flag day @bisriyadh pic.twitter.com/mAUg3jEJTU

— Principal at BISR (@BISRPrincipal) March 11, 2023
Those settled abroad even walked around proud with the Saudi flag on their shoulders 🫡
تبون تشوفون كيف احتفلنا في #يوم_العلم؟

لقطات تشويقية وانتظروا المزيد🇸🇦😎💚#يوم_العلم_السعودي#Saudi_Flag_Day#نادي_مانشستر42 pic.twitter.com/ANzD07Xd8a

— نادي الطلبة السعوديين في مانشستر (@KSAMCR) March 11, 2023