Latest
Saudis Show National Support For Upcoming World Cup Semi-Final Of Al-Hilal v Chelsea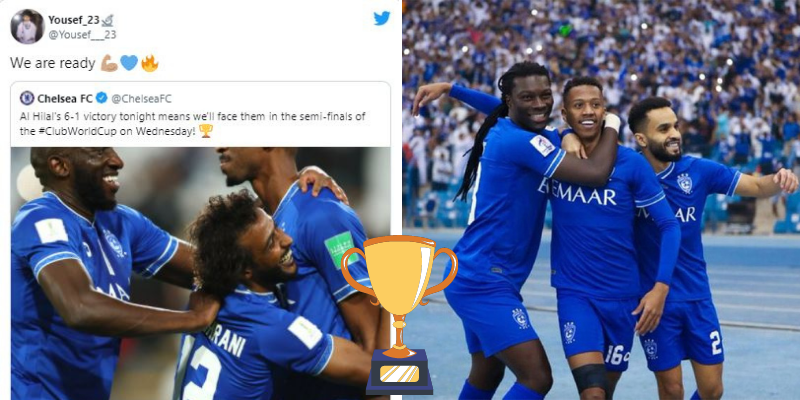 Chelsea is set to face Al-Hilal for the Club World Cup Semi-Finals and Saudi is ready for it
٦ !!! هاتوا تشيلسي 🔥🔥🔥 هذا الهلال 💙💙💙💙💙💙 💪🏻🇸🇦👏🏻 ماشتقتو لحتفالات البلويفارد🇸🇦💪🏻💙💙💙💙💙💙 pic.twitter.com/6DgrBV1Ad8

— TURKI ALALSHIKH (@Turki_alalshikh) February 6, 2022
People are posting their pride and support for the Riyadh team making it this far in the club world cup, currently being held in Abu Dhabi. Turki Al Sheikh also took to Twitter to post a video of his constant support for the national team.
We are ready 💪🏽💙🔥 https://t.co/LWSlRloaei

— Yousef_23🔬 (@Yousef___23) February 6, 2022
Second striker to the Al-Hilal team, Moussa Marega, displayed his gratitude for the continuous support of fans and is fully motivated to move to the semi-finals
Great win, road to semi final now 💪🏿💙 Thanks for your support, work continues ⚔️ #

#alhamdulillah #alhilal #الزعيم #الهلال_في_كأس_العالم pic.twitter.com/n008x7mILW

— Moussa Marega (@marega91) February 6, 2022
Fans also took to twitter to support the team, eager to see who ends up in the final match.
The battle of Blues 💙🤍 #Chelsea #AlHilal https://t.co/L4j4GczTdd

— Khalid.Alanazi (@kalanazi7) February 6, 2022
The matches are currently being held in the United Arab Emirates for the first time, in two stadiums from February 3rd up until February 12.