Latest
Signboards Of An Ancient Arabian Language Are Now All Over AlUla And There's A Legit Reason Why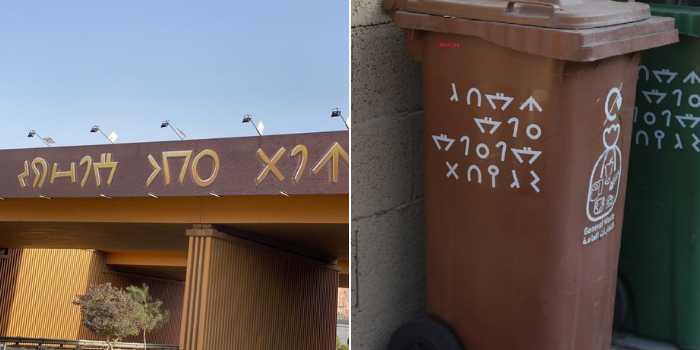 If you've been to AlUla recently chances are that you've come across signboards in some illegible script. We did some trawling on Twitter and finally have the answers.
AlUla is inextricably linked to its illustrious Dadanitic heritage.
The people back then didn't speak Arabic; ancient inscriptions of which there is no shortage of here are found in Aramaic, Minaic, Dadanitic, Nabataean and even Greek.
Jabal Ikmah, Saudi Arabia.

It is a mountain near to the ancient city of Dadan, the capital of Dadanite and Lihyanite Kingdoms, has been described as a huge open-air library.

Images: Richard Mortel#AncientSiteSunday pic.twitter.com/84OcZ8ruvK

— Digital Maps of the Ancient World (@DigitalMapsAW) December 19, 2021
Saudi Arabia is now attempting to revive the old Dadanitic script.
Script revitalization can begin in the most unexpected places. These are Saudi Arabia recycling bins with instructions in the Dedanitic script. The Dedanitic script was in use during the second half of the first millennium BC in the oasis of Dadan (modern al-Ula). pic.twitter.com/TCUJGl3p3M

— Tim Brookes (@EndangeredAlpha) December 25, 2021
It looks pretty cool, huh?
This also is in Al-Ula using the same script, and it says: "Al-Ula triumphs its way towards a more dazzling time" https://t.co/IDb9WjXSl3 pic.twitter.com/TDvdptNGsk

— Riri (@supprimeac) December 26, 2021
A Twitter user shared an image of a keyboard for this script that's under development.
Old North Arabian keyboard for Android that I am developing. No ETA yet. #ONA #Android #keyboard #OldNorthArabian #Unicode pic.twitter.com/xmbNkPSPeO

— 𐪅𐪀𐪈 𐪑𐪁𐪉 (@WahbAllat) December 17, 2021
A language institute has opened in AlUla recently and one of the languages being thought there is the language of the Nabataeans.
Delighted to attend the opening of the Al Ula Languages Institute tonight. Teaching English, French, Mandarin, Arabic and Nabatean, it will help create local jobs and improve the experience for tourists coming to see the beautiful sites in #AlUla#EducationisGREAT @RCU_SA pic.twitter.com/OdLd9q5JE2

— Neil Crompton (@UKAmbKSA) November 1, 2021