jeddah
The 4 Ultimate Jeddah Picnic Spots To Check Out This Summer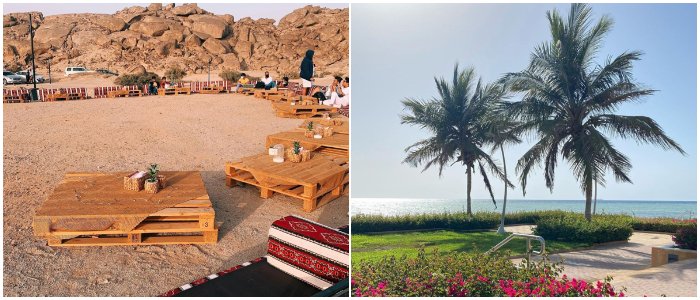 Summer calls for road trips, chilling out with friends and of course, a good old picnic. Day or night, picnics are the perfect way to make summer memories. There are a ton of picturesque Jeddah picnic spots that provide epic views (and sunsets!). All you need to add is good company, some cold drinks and some nibbles to munch on.
Here are the 4 ultimate Jeddah picnic spots to enjoy this summer:
4. King Abdullah Economic City
If you're not averse to a little drive outside of the city, KAEC is full of wonderful, sunny, green spots for a picnic and makes for a great change of scenery. With a gorgeous waterfront and several parks around the water, as well as various food outlets, it's the perfect spot for a picnic.
View this post on Instagram
3. Moon Mountain
Another short ride from Jeddah's city centre lies Moon Mountain, named for its unique landscape that could be mistaken for the earth's satellite. It's a popular spot for people wanting to disconnect from the hustle and bustle of the city, where you can hike, climb and gaze at the stars. In the summer it's probably best to visit in the evenings when it's cooler. You can start by watching the epic sunset from this spectacular spot and then picnic under the stars with some qahwa and yummies.
View this post on Instagram
2. Eastern Forest
This hidden gem on the outskirts of Jeddah is known by few, making it the perfect, quiet picnic spot. Also known as "Ghaba Jeddah," the "forest"is a lush oasis in the middle of the desert with over 80,000 plants and is also home to lots of wildlife. It's so green you'll almost forget you were in Jeddah. You'll hear birds chirping above and butterflies flitting about, as a scene straight from a novel. There's an observation tower where you can take in the views of the whole forest as well as a masjid. Bring your picnic essentials as there are no concession stands.
View this post on Instagram
1. Jeddah Corniche
It's no surprise the corniche takes the top spot on the list. Jeddah's corniche is definitely one of the most beautiful in the entire country, which makes it the perfect spot for spreading out your picnic blanket and spending the day lazing away. One of the city's main attractions, the waterfront is super convenient offering parking, restaurants, walkways, fountains and large green spaces, all with the stunning view of the Red Sea. Even if you don't come prepared, there are lots of concessions along the corniche for you to grab a bite or a drink. Plop down across from King Fahd Fountain for a seriously cool view and make sure you don't miss the sunset.
View this post on Instagram
READ NEXT: It Is Possible To Explore Jeddah With Its Most Famous Tour Guide