jeddah
The 5 Best Jeddah Spas Where You Can Get Your Glow On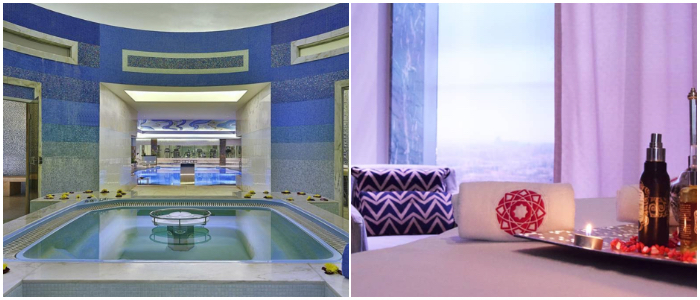 Is there any better feeling than freshly pedicured feet? Or the zen you feel after your deep tissue massage? We all deserve a little pampering from time to time and there are some Jeddah spas that will seriously make you feel completely rejuvenated. Whether you've got some skin that needs a little TLC or your toes need to be summer sandal ready, summer is an important time for a trip to the spa.
Here are 5 Jeddah spas that will have you feeling brand new:
5. Evania and Seba Spa
If its luxurious surroundings you need to relax and unwind, look no further than the Park Hyatt Jeddah's spas. Evania caters to women while Seba is for gents only and the crisp white decor will take you to another level of zen. Take a dip in the turquoise pools to get your circulation flowing, sip some of their signature ginger tea, get your pores cleaned and tightened or enjoy a full body hammam treatment to get glowing.
View this post on Instagram
4. Oriana
Get your head to toe glow-up at this super popular spa. They've got a huge array of skin-smoothing body treatments and youth-preserving facials. They also are known for their hair cuts, colours and updos if you've got an upcoming event as well as their fashion-forward manicures.
View this post on Instagram
3. Narci Spa
If it's an aching body and sore muscles you need to soothe, the Narci Spa at the Narcissus Hotel and Resort can tend to you with its steam room, saunas, jacuzzis and whirlpools and a variety of hydrotherapies. They've got separate facilities for men and women and boasts being the largest spa in Jeddah with over 1,200 square metres of facilities.
View this post on Instagram
2. Assila Spa
Both men and women can enjoy the luxurious amenities of this spa. You'll love the calming interiors and relaxation lounges where you could spend the day in a fluffy robe. Some of the treatment rooms have views of the beautiful corniche and they have an incredible hammam with aromatherapy treatment to melt your worries away.
View this post on Instagram
1. Waldorf Astoria Jeddah Spa
Ladies can take a dip in the secluded pool here or use the aqua therapy bed for some rejuvenation. They also have a whirlpool and steam rooms that you can spend time in before or after your spa treatments, which include skin softening facials, detoxifying body scrubs and wraps, and more using the finest products available.
View this post on Instagram
READ NEXT: 10 Riyadh Spas That Will Have You Feeling New Again