jeddah
The 5 Best Walking Trails In Jeddah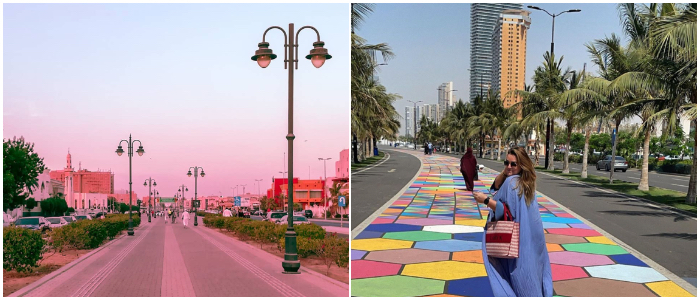 Let's be honest, are you getting your 8,000 minimum steps a day? After being cooped up indoors for the longest time, it's safe to say everyone need to be a little more active in 2021! Plus, if you're not exactly a gym bunny, walking is a great way to torch calories and shift some of those extra pounds and just feel better overall. If you're in Jeddah, you're in luck. Along with its beautiful coastline, there are many kilometres of beautiful walking trails in Jeddah for you to take advantage of this summer.
Here are the 5 best walking trails in Jeddah:
5. Al Faysaliyah Walkway
Like most of Jeddah's pedestrian walkways, Al Faysaliyah is super convenient with parking available so you can easily drive over from anywhere in the city and step out for a jaunt. It's about 2 km long so a perfect light walk post dinner or whatnot. Nothing too intimidating, so perfect for starters.
4. The Hilton Walk
The Hilton Walk is conveniently located walking distance to the corniche. Alongside the walkway, there are slides and playground where children can play while the grownups get some exercise. Unlike some walkways, this one is surrounded by green spaces on both sides making it really delightful to walk on. It's well lit in case you plan on walking at night and even has markers to show you how far you've walked.
View this post on Instagram
3. Rehab Walkway
This 1.5 KM walkway opened in 2015 to allow Jeddawis to stay healthy in the city. Located between Umm Al-Qura Street and Haramain Street, it can be used for walking, jogging and biking, along with shaded seating along the walkway for those who need a rest. It's the perfect way to get your exercise in without being confined to a gym or feeling like a tedious workout. An added bonus — the walkway is dotted with some art installations to give you something to ponder over while you stroll.
View this post on Instagram
2. Tahlia Walkway
At 2KM long the Tahlia walkway is an excellent workout for a beginner or even an advanced runner. It's well lit with ample parking making it a perfect spot for those late summer evening strolls or runs. Plus the location is conveniently located in the happening Tahlia district.
View this post on Instagram
1. Jeddah Waterfront
The promenade at the Jeddah Corniche is an astounding 4.5 km long and 10 meters wide to account for the crowds and popularity of the place. The beautiful views overlooking the Red Sea make this a super popular spot for a bit of exercise. There are places where you can rent bikes, if you don't have one, which is super convenient. It's also dotted with green spaces, playgrounds, and food vendors so you can grab a drink or snack after cooling down. The sunrises are absolutely gorgeous here, for the early risers.
View this post on Instagram
READ NEXT: 5 Restaurants With The Best Views In All Of Saudi