Latest
The Internet Is Loving This Stunning Visual Of Madinah From Space Shot By A Russian Cosmonaut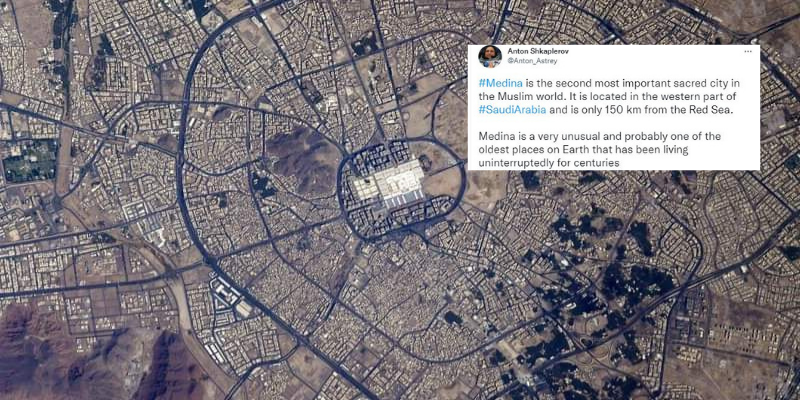 The current Commander of the International Space Station, Russian Cosmonaut Anton Shkaplerov, regularly posts photos of places around the earth from up in space. He recently posted a photo of Madinah and it's breathtaking.
In case you're wondering what cosmonauts are then let us tell you that they are the same as astronauts but Russians like to use cosmonauts so we'll be using cosmonaut to describe Shkaplerov. He uses cosmonaut on his bio by the way.
Returning to the shot, the Prophet's Mosque is seen in the middle, almost functioning as a nucleus around which Madinah was built and extended.
#Medina is the second most important sacred city in the Muslim world. It is located in the western part of #SaudiArabia and is only 150 km from the Red Sea.

Medina is a very unusual and probably one of the oldest places on Earth that has been living uninterruptedly for centuries pic.twitter.com/WVQXbQ7Pk6

— Anton Shkaplerov (@Anton_Astrey) November 11, 2021
He previously shared images of Makkah and Madinah taken from space at night. You can easily spot the Holy Mosques in both photos as they shine brightly under the night sky.
Amazing night view of #Mecca and #Medina from the #ISS pic.twitter.com/gw4rxu73fq

— Anton Shkaplerov (@Anton_Astrey) January 26, 2015