Feature
These 5 Celebrities Have Endlessly Praised The Kingdom During Their Visit To Saudi Arabia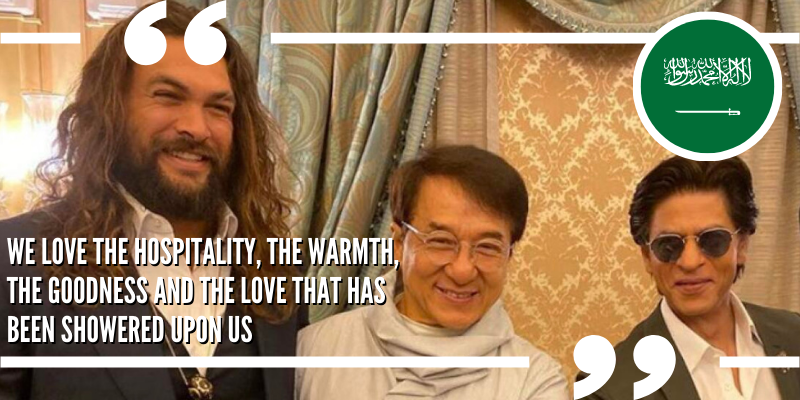 Saudi has definitely become a travel hospot as the Kingdom has progresed in numerous ways and celebrities from ALL over the world are swarming to visit
Over the years, Saudi's reputation has rapidly changed from being known as one of the most conservative countries to now a tourist attraction for all travelers. From Bollywood sensations to Hollywood legends, these five celebrities had nothing but great things to say about Saudi Arabia. 
David Guetta
View this post on Instagram

David made his visit just last year for the Riyadh MDL Beast Soundstorm concert to which he thrilled the crowd. During his visit, he had mentioned how honored he felt to play for a country that has undergone such progression. In this video, Guetta praised Saudi for completely transforming their beliefs regarding rights of women, equality, and tourism. 
Idirs Elba
.@idriselba: "It's very important that the world collaboraters see #culture through entertainment and through transperancy of storytelling." #QOL pic.twitter.com/c55WUrq5g9

— CIC Saudi Arabia (@CICSaudi) May 3, 2018

Golden Globe-winning superstar, Idris Elba, had visited Riyadh back in 2018, during the opening of its film industry. Elba mentioned the potential of Saudi on the big screens, hinting he might shoot a film there. During his visit, Elba considered shooting a film in Saudi Arabia, and showcase its beauty to the world. He said,  "I would definitely be here, why not? Saudi Arabia has an awesome opportunity to spread its culture through film-making" 
Jackie Chan 
View this post on Instagram
The action legend had won an award at the Joy Awards in Riyadh in 2021, and had spoken about future plans about making a movie in the Kingdom.  In his acceptance speech, he firstly greeted everyone with an "Asalmualaikum", which is the traditional greeting in both Saudi and Muslim culture. '"It's my first time in Saudi, and I know it's a big country. After only a few hours here and looking at locations I know it's a good place for car chasing, explosions, action; so, next time, I hope to come back with my crew".
Shah Rukh Khan
View this post on Instagram

This Bollywood sensation is a big name in the industry, and in Saudi Arabia with accumulating more than 10 million fans. Khan has visited the Kingdom numerous times and has loved every minute of it. He praised the Kingdom in his acceptance speech for his Joy Excellence Award in Riyadh: "We have been talking about the hospitality, the warmth, the goodness and the love that has been showered upon us … and for most of us, it's our first trip to the Kingdom of Saudi," Khan said.
Jason Mamoa  
View this post on Instagram
This Game Of Thrones legend, and Aquaman himself had also received an award at the Joy Festival in Riyadh, and also visited for Comic Con back in 2017. Mamoa praised the Kingdom for its progression to incorporate cinema into its culture. He told the crowd how he "fell in love with the country" and "it's beautiful to see the next generation," predicting that "change is going to come." He had also posted pictures enjoying a lovely traditional Saudi meal with WWE star Mada Abdelhamid.