Latest
These 5 Saudi Female Entrepreneurs Are Killing It In The Fashion Industry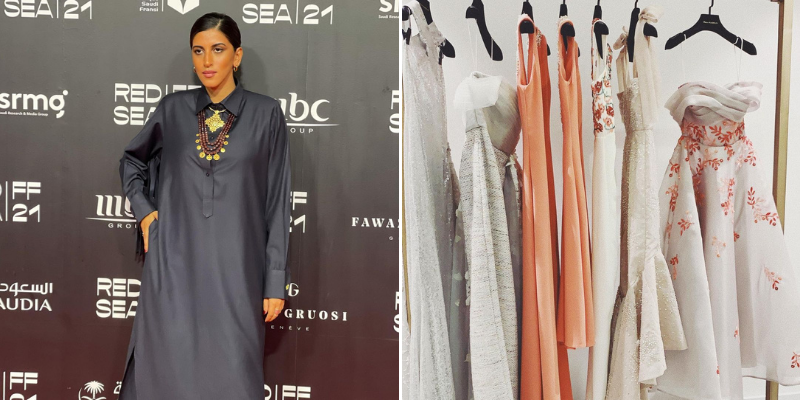 With Saudi moving towards equality and opportunity for women, here are 5 Saudi women that are making quite a name in the fashion industry.
Kick starting in the Kingdom, some brands have become well-known across the world in areas like the UK,
USA, and even Lebanon! Each individual showcases their unique vision, style, and fashion statements,
representing the Kingdom for its fashion diversity.
1. Razzan Alazzouni
View this post on Instagram
Razzan first established her brand about a decade ago, and has featured her designs on numerous celebrities. Models ranging from Emma Roberts to Kendall Jenner have worn her masterpieces. She was also invited to partake in Prince Mohammad bin Salman's Saudi Vision 2030 campaign, enhancing her influence on fashion in Saudi Arabia. Her product ranges include Arabian inspired dresses, shoes, and accessories.
Alazzouni is also the art director for the Saudi Cancer Foundation and was featured as a guest speaker at the Ted X Al Faisal University first event in Riyadh, back in 2011.
2. Arwa Al Banawi
View this post on Instagram
Arwa established her brand back in 2015, and created her slogan, "The Suitable Woman." It aimed to celebrates women on the go, maintaining fashion and style throughout their work-day. She usually incorporates bold and unique colors to enhance unique fashion statements. Her high-end street wear designs have been worn by celebrities like Kris Jenner, Jessie J, and Jaden Smith. Al Banawi has also collaborated with renown brands including Adidas, Levi's, and even Pepsi to create unique designs, bridging the gap between western and Arab culture.
Although she is based in Dubai,  her items can be found at luxury-department stores all across the Middle East.
3. Honayda Serafi
View this post on Instagram
After launching her ready-to-wear clothing brand back in 2016, Honayda Serafi celebrates the diversity and beauty of couture dresses. Her pieces have been worn by international celebrities including Lupita Nyong'o, Priyanka Chopra, Shay Mitchell, Dove Cameron, and Angham.  Serafi's designs are sold worldwide in boutiques across the Middle East, Europe, and Americas.
She also made quite a name in the industry with her COVID-19 campaign. In response to the pandemic, Serafi launched a "Sketch&Give" initiative, which donated an outfit for each sketch shared on social media. In just over a week, it recorded 2,152 sketches, 11,180 outfit donations, and raised $340,500 in funds. When not doing fashion, Serafi is also an an accomplished sculptor and poet.
4. Nora Al Shaikh
View this post on Instagram
Nora Al Shaikh first launched her company back in 2012, and has been a sensation since then. From New York to LA, she has been part of numerous fashion and retail events.  Her designs have been worn by celebrities including Fergie, Dove Cameron, and Julia Michaels. Her collections were also featured in Arab Fashion Week 2019, and was recently picked for the '100 Saudi Brands Exhibition' this year. Shaikh has said to use her Saudi culture as a constant inspiration for her work, with her elegant modest designs.
5. Shahd AlShehail
View this post on Instagram
Shahd is a Johns Hopkins University alum who partnered with her aunt Naeema, to launch luxury fashion label Abadia back in 2017. Since then, it has become known for its iconic piece known as Farwa: a menswear winter coat reimagined for the modern woman. Queen Rania of Jordan was also spotted wearing the coat at her daughter's graduation, spiking the name and popularity of the iconic piece Shahd also promotes sustainability in fashion, launching Project JUST, an NGO known to challenge exploitative practices of fashion. Her brand also holds a consistent presence at Paris Fashion Week. Just last year,  AlShehail was also chosen to dress the Saudi delegation to the United Nations.