Feature
These Awesome Events Are A MUST-Visit Before Jeddah Season Ends Next Week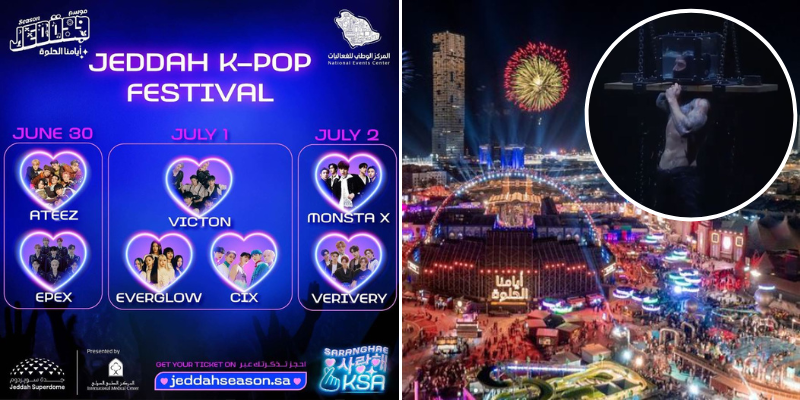 Jeddah Season is officially coming to an end so prepare to say your goodbyes next week with these upcoming events you HAVE to go to
Jeddah Season officially ends on July 2nd, and they have TONS of various activities for your goodbyes. From a red-carpet experience to an anime concert, these activities are the perfect goodbye to the season and a quick check on your bucket list for summer activities.
1. Jeddah K-Pop Festival
View this post on Instagram

This concert is for the K-Pop lovers as the lineup is INSANE. The set-list includes artists Ateez, Epex, CIX, Viction, Everglow, Monsta X, and Verivery. This festival will run from June 30th until 2nd July at the Jeddah Superdome, so grab your tickets now! Check out their official site for different ticket selections.
2. Fame Factory
Fame Factory كان برنامجا تلفزيوني سويدي للواقع تم تنظيمه في شكل سلسلة Star Academy.. #jeddah #citywalk (@ City Walk in Jeddah, Makkah) https://t.co/NoNW2Yjb1t pic.twitter.com/ZUVmMAs3ds

— Dr.Gr8 (@prof_gr8) May 17, 2022
If you're a Hollywood fan and have always wanted a red carpet moment, then this event is a must-visit. This event takes you through the whole shabam of a red carpet from wardrobe all the way to an Oscar award. Definitely worth living a Hollywood dream for just 150 SAR.
3. Darcy Oake the Illusionist
View this post on Instagram
If you're into magicians and illusions then make your way to the Darcy Oake show this weekend, on the 26th. City Walk is hosting the famous illusionist for a night full of surprises, and best part is the audience gets to participate for just 100 SAR.
4. Jeddah Jungle Safari
View this post on Instagram
Animal lovers, this one's for you. The Jeddah Jungle will close its doors this weekend on July 24, so grab some tickets ASAP. On this exclusive tour, you will ride through the jungle and witness seven different species of big cats.