Feature
This Crater's Pictures Will Make You Want to Visit It ASAP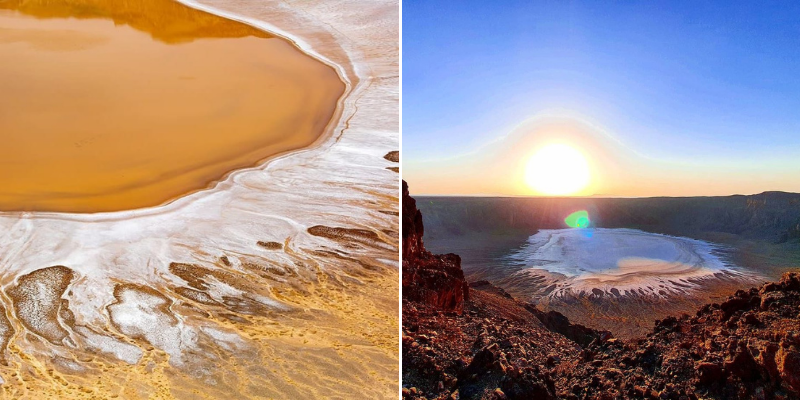 Did you know Saudi had volcanoes? Well, Al Wahbah is home to a 4km volcanic crater just a few hours from Jeddah.
The crater is located exactly 250 km from Ta'if, a four hour drive from Jeddah city, and is carved into
 the western edge of Hafer Kishb basalt plateu. The climb to get there is also quite the experience, 
with beautiful views of the desert from the plateau. Al Wahbah crater also has a hollow lake right in 
the center, worthy of those aesthetic Instagram pictures.  Right in the center, elements of white
sodium phosphate crystals give the crater that shine of glittery dust.
View this post on Instagram
When visited at peak noon, the crater looks like a magical halo.
View this post on Instagram
If your lucky enough to visit during a rainy season, the crater becomes a pearly lake as water gathers
 into the hollow rim.  Al Wahbah crater was formed by volcanic eruptions in history, which caused
 groundwater to come in contact with hot lava, thus forming the hollow center. The crater was once
 believed to have been formed by a meteorite crashing to earth, but geologists in the 1960s
 named Al Wahbah a maar crater. 

View this post on Instagram
Get the location below, and visit with your friends and family.
For the best experience it is best to make the trip during these cooler months.
Summers in Wahbah can go up to 50°C which can cause difficulty in the 90-minute hike up.