Latest
This Former Qatar Airways Flight Attendant's Takes On Traditional Saudi Attire Are Absolutely Stunning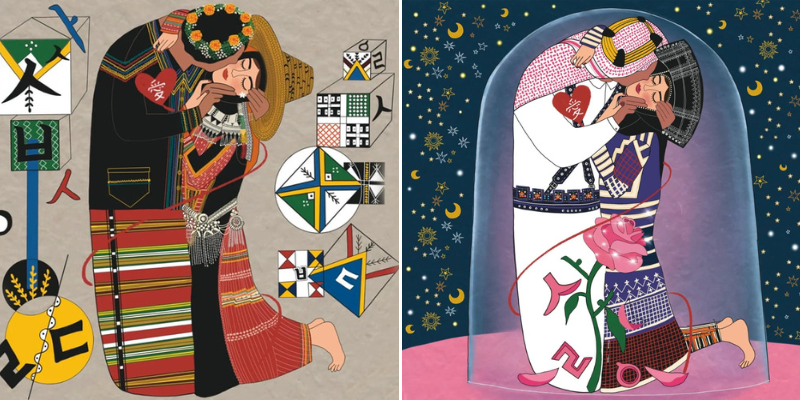 South Korean digital illustrator Kim Sin-ae has created her own versions of Gustav Klimt's renowned painting "The Kiss" in an effort to honour the beauty of the traditional clothes and culture of the Arab world.
Sin-ae initially worked as a flight attended for Qatar Airways, and like all flight-attendants she got to travel around the world a lot. In a report in the Arab News, during a layover in Vienna, she visited the Klimt Museum and was immediately enamored with "The Kiss."
She then created her own versions of "The Kiss," capturing the many ethnic outfits that vary in Saudi Arabia according to location. This is how she interprets the Taifi one.
View this post on Instagram
The Asir one perfectly encapsulates the "Flower Men" custom.
View this post on Instagram
She has already produced variants of "The Kiss" that take into account the cultural preferences of 23 other countries, including Bahrain, the UAE, Syria, Egypt, Mauritania, and Morocco.
View this post on Instagram

The artwork of Sin-ae serves as a poignant reminder of the splendour and diversity of the Arab world and is a striking illustration of the ability of art to cross cultural barriers and promote understanding. She is definitely helping present to the world the diversity that exists in Saudi.