Latest
This Natural Maze In Farasan Island Will Blow Your Mind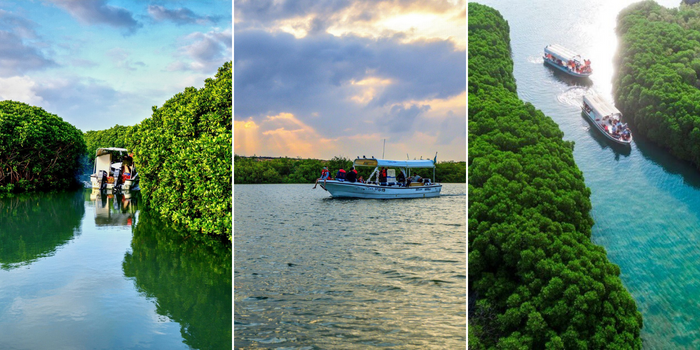 This Natural Maze In Farasan Island Will Blow Your Mind
Saudi Arabia is known for the beauty of its nature across all regions. Farasan Island, located in the Red Sea, is one of the largest islands in Saudi Arabia. It's famous for its stunning natural beauty, including the mangrove forests that cover a large area of it.
These mangrove forests make up a unique ecosystems that grows in shallow coastal waters, where saltwater and freshwater mix. The beauty it lies in its intricate network of roots that rise out of the water, creating a maze of narrow waterways and channels that wind through the forest.
غابة المانجروف #جزيرة_فرسان #السعودية #شتاء_جازان_2022
___________

Mangrove forest, Farasan Island#SaudiArabia #WINTER pic.twitter.com/8pOnDVqNYZ

— سياحي KSA (@ctmsaudi) February 15, 2022
This Natural Maze In Farasan Island Will Blow Your Mind
On top of its stunning beauty, these roots of the mangrove trees are a vital part of the ecosystem, as they provide shelter and food for a wide variety of aquatic animals, including fish, crabs, and mollusks.
After fruitful meetings yesterday in #Jazan we discover today the amazing natural diversity and culture of the #Farasan Islands. Sea, mangrove, dolphins, birds…simply wonderful!@NCW_center @VisitSaudiNow @SaudiTourism pic.twitter.com/rzljTX8QeU

— Patrick Simonnet (@eusimonpa) October 4, 2022
It Is Also A Famous Spot Among Tourists And Explorers
من أمتع المناظر الطبيعية التي زرتها في مملكتنا العربية السعودية في جزيرة فرسان و بالتحديد في غابة القندل 🏝️🌳🤍🇸🇦 @VisitSaudiAR
One of the most beautiful landscapes that I visited in our Kingdom of Saudi Arabia is on Farasan Island, specifically in the Qandal Forest 🏝️🌳🤍🇸🇦 pic.twitter.com/0bCQ63IlHK

— Monther Jasim (@JasimMonther) February 15, 2023
Back in 1996, the Saudi Wildlife Authority declared the Farasan Island a protected area as it provides a natural habitat for a diverse range of marine species.
If you ever thought about visiting this place and enjoying it, don't forget to tag us on #LovinJeddah or @LovinJeddah!