Feature
This Weekend Was Totally Star-Studded Thanks To The Red Sea Film Festival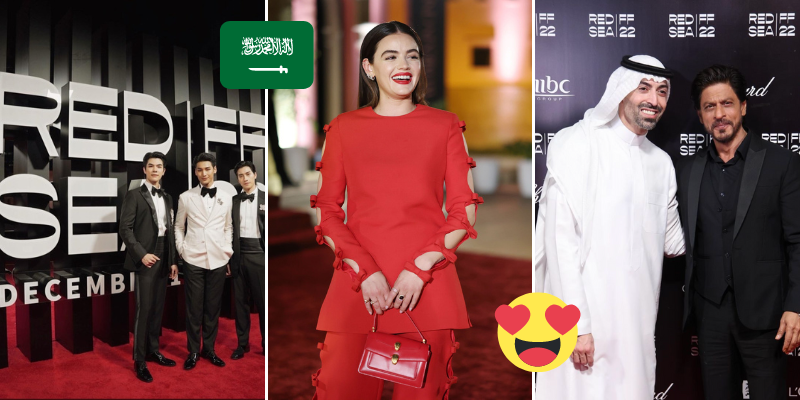 The iconic festival of the year was back for another year of success on the big screens, and not to mention the major inflow of some of your favorite actors.
Hundreds of famous faces flocked to Jeddah to attend the Red Sea International Film Festival and fans went crazy 😱
the gorgeous shah rukh khan at red sea film festival last night 🫶🏽 pic.twitter.com/eFq8MT22KB

— shahd (@shahodx) December 2, 2022

From Bollywood favorites like Shah Rukh Khan, Kajol, Akshay Kumar and more, to Hollywood's finest Lucy Hale, Henry Golding, Michelle Rodriguez and many more, all lit up the red carpet for the second edition of the Red Sea Film Festival.
Lucy Hale looked absolutely stunning for her debut at the festival 😍
View this post on Instagram
Alaa Faden and Asem Alawad also  showed up for the Saudi Film 'Raven Song' premier 🇸🇦
View this post on Instagram
Fans also cheered on Thai actors known as Mile, Apo, and Bible
-milephakphum ig updates;

Mile's amazing memories at Red Sea International Film Festival 2022. So happy and proud of you Mile!☺️😘💚#MileApoBibleRedSeaFilm@milephakphum @Nnattawin1#MilePhakphum #Nnattawin#RedSeaIFF22 pic.twitter.com/KY3idqR7lf

— GreenyRose (Fan Account) (@ApoMyLover) December 3, 2022
Bruno Mars was the opening act for this festival and everyone was loving it 🔥
View this post on Instagram
Bruno Mars lit up the stage for the hundreds of attendees and fans that enjoyed his live performance. However, apart from all the fun and entertainment at the event, the outfits were also totally top-tier. Famous faces got to showcase killer looks all done by Saudi's finest designers.
Brazilian supermodel Alessandra Ambrosio totally rocked this blue ensemble by Saudi designer Yousef Akbar
View this post on Instagram
Jomana Al-Rashed, known as the first Saudi woman to be appointed CEO of the Saudi Research and Media Group, was also spotted wearing Saudi label Loodyana. It was quite the eventful weekend for Jeddah, and all these pictures definitely prove it.