Latest
Watch: This Saudi Student Looking After An Elderly Dutch Man Is The Best Thing On Saudi Twitter Today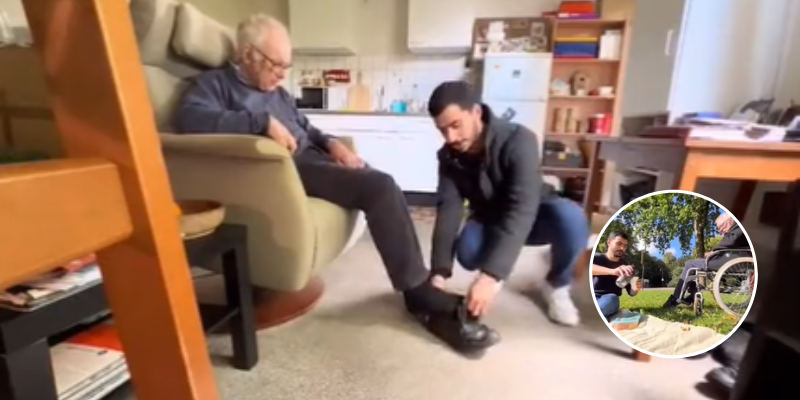 Saudi students studying abroad, espousing the rich values of the country, have time and again made the whole country proud of their actions—the list is too long to enumerate here. One of the latest acts that's being widely praised is that of a Saudi student on scholarship in the Netherlands who's been volunteering as a caregiver to an elderly Dutchman.
The profound effect a caregiver can have on a senior by giving them the help they need can't be overstated. This video is proof of just that.
A Saudi young man on scholarship in the Netherlands taking care of an old man ( this is the real Saudi morals and attitudes 🇸🇦 representing his country very well 🤩good for you 👏👏👏) pic.twitter.com/SKNeNXsjPP

— MUNADOSSARY 🇸🇦MBS🇸🇦منى الدوسري البدوية (@MUNADOSSARY) October 18, 2022
Saudi Twitter had a lot to say about this.
God bless him.
We've always been taught and brought up to respect the elder and be compassionate with the young.
This may seem cute and sweet abroad and surprising for the amount propaganda and systematic hate attacks against us Saudis, but it's actually norm within the country.

— ﮼ابوخالد (@AzeezLazez) October 18, 2022
Most hail him as a hero for being a good ambassador of the country and showing the world the values of its people.
God bless him
Nothing unusual, most of our Saudi Sons and Daughters are used to this kind of kindness and bravery in saving people lives. With no differences between race or nationalities.

— بنت الطيبين (@S18954569) October 18, 2022