Latest
You Can't Miss These 7 Saudi Jewelry Designers And Their Wearable Works Of Art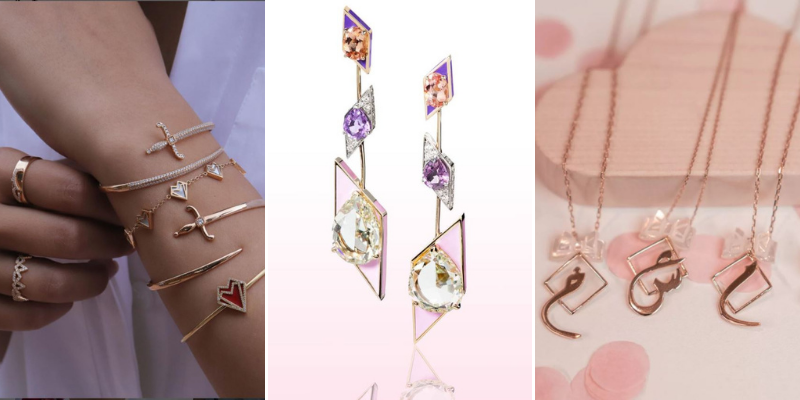 These 7 Saudi jewelry brands are the ultimate reason for you to support locally
Owned by ambitious and creative ladies of the Kingdom, each brand uniquely features different selections of wearable art that is ultimate class. Check them out below
1. Haneen Saber Jewelry
View this post on Instagram
Launched back in  2017,  Haneen Saber makes beautiful pieces of Islamic letters and fonts. Inspired by Islamic history, the designer looks to blend history with contemporary styles to create beautiful statement pieces. Haneen learned the art of jewelry creation in Florence, and was inspired to bring her talent and vision back to the Kingdom to create her beautiful designs
2. Nuun Jewels
View this post on Instagram
This brand was created by Princess Nourah Alfaisal Alsaud who brought luxury and art from her heritage to create masterpieces. The designer uses her hometown of Riyadh to inspire the different colors and accents in the jewelry pieces. She explains the use of color of Riyadh's sunsets, geometric Islamic patterns, and even scents to create unique contemporary pieces.
3. NADINE<
View this post on Instagram
Nadine Attar founded her official jewelry brand back in 2018. She uses the colors of nature, spirituality and her culture to use gemstones for unique designs. The designer tries to create individualistic designs for each client with different statements and colors. Her designs were even worn by Saudi Actress Sumaya Rida at the Red Sea Film Festival.
4. Sedra Jewellery
View this post on Instagram
This brand was founded in 2015 by Nora and Lamia Alkhorayef, and has more of an everyday jewelry selection. It even has pieces for children and uses floral prints to create pretty designs.
5. JWAHER JEWELS
View this post on Instagram
This brand was created by two sisters, Abeer and Sara Alsudairy, also has designs for the little ones. They have a wide selection of letters with different designs for people looking for initial necklaces. In both Arabic and English, JWAHER has beautiful typography designs.
6. M. Fitaihi
View this post on Instagram
This brand was created by Dr. Mohammed Fitaihi which has now become a multi-brand jewelry boutique. However, M. Fitahi has more of a high-class design of using diamonds and 18K gold.
7. Charmaleena Jewellery
View this post on Instagram
Created by sisters Hala and Lina Khreijy, Charmaleena is a Jeddah-based brand inspired by poetry and love. The statement pieces have unique and colorful designs which also consist of layers. Charmaleena allows the customer to create their own designs and story through layering the necklaces in different ways.