Latest
Brazilian Race Car Driver Enzo Fittipaldi Is All Praises For A Saudi Hospital After Treating Him Post A Horrific Crash In Jeddah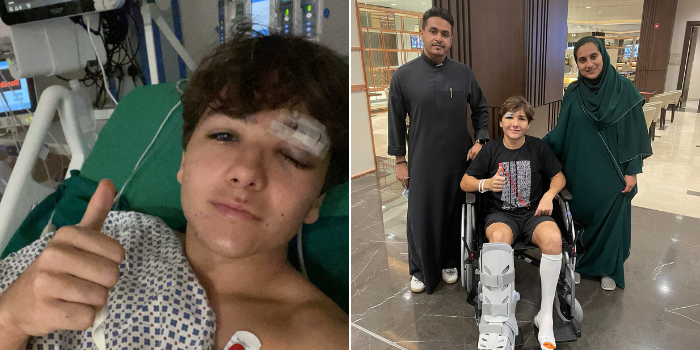 Enzo Fittipaldi, a driver in the FIA Formula 2 Championship, was involved in a tragic startline incident two weeks ago in Jeddah. He suffered a fractured heel, facial injuries, and bruises as a result of it.
After being treated for illness at King Fahd Hospital, he has returned home and is all praises for the medical staff there.
Today I arrived home safe and sound in North Carolina, USA… I wanted to take this time to thank everyone involved who helped me the passed couple of days. I can't describe in to words how kind and loving everyone was at the King Fahd hospital. Thank you Saudi ❤️ @Ahad_AlSaud pic.twitter.com/PDmDlJpYDo

— Enzo Fittipaldi (@enzofitti) December 11, 2021
Here's a video of the accident.
The #F2 accident that caused the red flag, Theo Pourchaire stalled in P3 then hit by Enzo Fittipaldi #SaudiArabianGP pic.twitter.com/cz5nUmsf9r

— WeDGE (@WeDGEinald) December 5, 2021
He had earlier tweeted from his hospital bed about the excellent care he was receiving.
🇺🇸 Hey guys, I am very grateful that I only broke my heel and have some cuts and bruises. Thank you all for the messages, as well as the FIA and medical staff for taking great care of me. I am very happy that Theo is ok. I will be back on track soon and faster than ever. 🙏 pic.twitter.com/3aLqaEQtgn

— Enzo Fittipaldi (@enzofitti) December 6, 2021