News
A Falcon In Saudi Sold For A Record-Breaking SAR 1.75 MILLION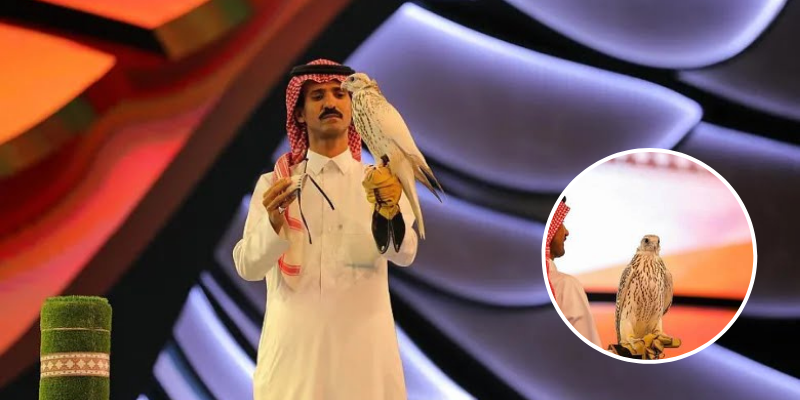 Here in Saudi Arabia, if there's any sport that Saudis love second to football, then it's probably falconry. Our love for it was manifested by the amount one ardent falconer shelled out for a falcon recently.
According to CNN Arabic, a gyrfalcon was sold in Saudi Arabia for a whopping SAR 1.75 million.
وكان صقر "جير"، الأغلى في العالم، وهو من نوع قرموشة جير (ألترا وايت) من مزرعة "باسيفيك نورث ويست" الأمريكية.#السعودية pic.twitter.com/d2aRSc8GnF

— Akhbar | أخبار الآن (@akhbar) September 6, 2021
The falcon was sold on the last day of the International Falcon Breeders Auction (IFBA) that took place in an area called Malham in the north of Riyadh.
Weighing close to 1 kilogram, the Gyr Qarmousha Falcon is just under the age of one and is 16.5 inches long. It was raised at the American Pacific Northwest Falcons farm, one of the best breeding farms in the world.
The auction was live-streamed on social media and broadcast on local television.
بيع أغلى صقر "جير" في العالم مقابل 1750000 ريال (466،667 …
بالمزاد الدولي بالمملكة العربية السعودية،،
صقر ممكن يغير حياتك؟
.
. pic.twitter.com/NITOk5f4Wz

— ♛♧أغ̷ر̷اب̷ـ ♧♛🇸🇦 (@xoiilliiox) September 6, 2021