Feature
Gather Your Loved Ones Up With This List Of 5 Exciting Things To Do On Eid
Eid Ul-Fitr is just days away and it is the perfect time to gather with loved ones and plan some fun activites together
The country is full of fun things to do all the way from a starry night in AlUla to a WOW moment at Jeddah Season, this list is up for grabs to carry around with you this Eid. Scroll below and check out which activity catches your eye.
1.Watch Kazem El Saher's Eid concert
View this post on Instagram

That's right, Kazem is coming to Saudi on Saturday May 7, to the capital. If you're a fan of this Iraqi artist, grab some tickets ASAP and keep yourself ready for a beautiful night of traditional instruments and singing.
2. Watch the Fuzion by Cirque De Soleil show at Jeddah Season
View this post on Instagram

Jeddah Season is coming soon and is set to open in just 4 days! The Cirque De Soleil shows are some of many activities the season has planned for the month. The shows run on Monday and Thursday nights from 9pm to 11pm, and Friday and Saturday evenings from 4pm to 6pm, and 9pm to 11pm.
3. Visit Habitas AlUla for some unwinding relaxation
View this post on Instagram

If you're overwhelmed by the city life and need a major relaxation retreat, then AlUla is the place to be. Habitas has the best facilities to relax with the most breathaking views. Pack your bags and head on over.
4. Hike above the clouds in Abha
View this post on Instagram

Abha is the mountain Kingdom of Saudi Arabia, and is ideal for nature lovers. With its monsoon weather and luscious green trails this spot is perfect to get your active side out and hike through some GORGEOUS views.
5. Visit Umm Qulaida for some amazing views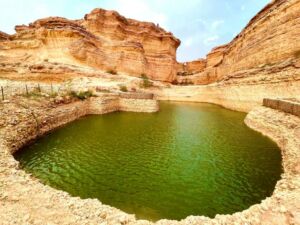 Destinationksa/WEB
This hidden gem is located just 150 km from Riyadh, and is known for its bright orange canyons and artistic rock formations. The sand there is bright red and it even has a natural pool!