Food
7 Mouthwatering Saudi Street Foods You Won't Be Able To Resist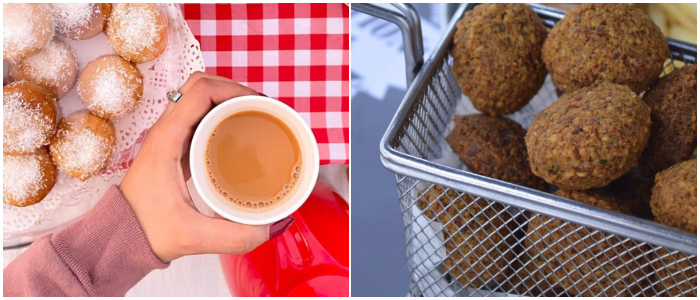 Ever want a quick bite but you've had your fill of broast and Al Baik? Saudi street foods are what you need. Whether you're cruising along your city's corniche, shopping in the souq or just craving a little something but not a full meal when you're out and about, you've got to try these popular tasty tidbits at least once.
Here are 7 mouthwatering Saudi street foods you won't be able to resist:
7. Shawarma
A snack that pretty much constitutes a meal, shawarmas are a go-to whenever you're looking for something filling and quick. Wrapped up handily to eat on-the-go, who doesn't love the warm comfort food loaded up with crunchy fries?
View this post on Instagram
6. Falafel
Vegetarians love this meatless but delicious snack which can be eaten alone or in a sandwich. Made of chickpeas it's ultra-filling but also super-satisfying– the deep fried fritters are super crunchy and often topped with sesame. Don't forget the dip — the tahini sauce is the best part.
View this post on Instagram
5. Corn
We're not sure where the yummy popular snack originated, but it's simple and satisfying. Head to any mall, corniche or festival and you're sure to find vendors in carts selling little cups of this healthy-ish snack. Sure, it's a vegetable but once it's loaded up with salt, extra butter and seasoning, it's absolutely mouthwatering.
View this post on Instagram
4. Manakeesh
Ever crave pizza but don't want to eat the whole pie yourself? Satisfy your craving with a manakeesh. These warm, oven-baked flatbreads are almost like mini pizzas without the sauce. They're loaded up with yummy toppings like za'atar, labneh, vegetables, meats and even honey.
View this post on Instagram
3. Karak chai
If you're not feeling coffee but still want a caffeine kick, you can't pass up on this favourite drink. Made of strongly brewed tea with lots of milk and sugar, you'll often see this being sold at gas stations and side-of-the-road joints for a few coins.
View this post on Instagram
2. Mutabbaq
This Saudi street food always hits the spot. The thin and crispy bread is stuffed with the most flavourful fillings including meat, spices, onions and the like. Super light and tasty.
View this post on Instagram
1. Sambusa
These little deep fried pockets of heaven are stuffed to the brim with sweet or savoury fillings. Have a hankering for something savoury and crunchy? There are meat and cheese filled sambusas or even plain veggie. Sweet tooth? They also make varieties stuffed in cream cheese and topped with honey or syrup.
View this post on Instagram
READ NEXT: 10 Recipes From Top Saudi Food Bloggers That Are Perfect For Iftar