Uncategorized
Madinah Gives The Perfect Eid Gift For Pilgrims As A Grand Exhibition Dedicated To The Architecture Of The Prophet's Mosque Is Inaugurated In The City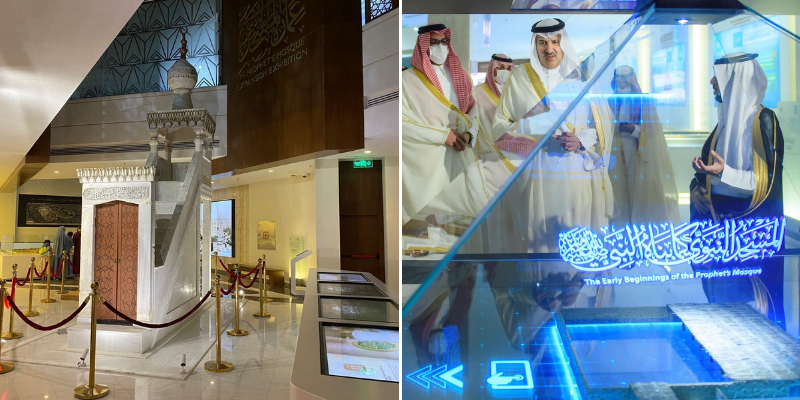 In the past couple of years, Madinah has added a slew of activities to keep visitors to the city busy. Madinah is now a chock-a-block with exhibitions that run year-round and offer great insights into the city and its history. The governor of Madinah, Prince Faisal bin Salman, has yesterday inaugurated a new exhibition that's dedicated to the architecture of the Prophet's Mosque.
Called the Exhibition of the Prophet's Holy Mosque Architecture, the exhibition chronicles the mosque's developments across time, beginning with its construction during the time of Prophet Mohammed (PBUH).
The place has a sizeable collection of artifacts that were once part of the mosque. A major draw here is the 600-year-old Qaitbay minbar.
#انفوجرافيك ||
معرض عمارة #المسجد_النبوي..
يستعرض تاريخ التوسعات التي شهدها المسجد، بالإضافة إلى بعض المقتنيات والقطع الأثرية النادرة المرتبطة به، لإثراء تجربة زوار #المدينة_المنورة. pic.twitter.com/FOU2MFm8Hw

— مركز بحوث ودراسات المدينة المنورة (@almadinahrsc) May 5, 2022
Speaking of unique artifacts, Madinah will soon be getting a grand museum called the Al-Salam Museum, that's being built right adjacent to the Prophet's Mosque.
مشروع إنشاء #متحف_السلام الذي يقع غرب المسجد النبوي في #المدينة_المنورة، يقام على مساحة 17,400 متر2، ويتضمن أنشطة عدة لإثراء تجربة دينية وثقافية للحجاح والمعتمرين pic.twitter.com/gygZcVK7EZ

— مشاريع السعودية (@SaudiProject) May 18, 2019