Feature
Madinah Welcomed Ramadan By Distributing More Than A Million Iftar Meals At The Prophet's Mosque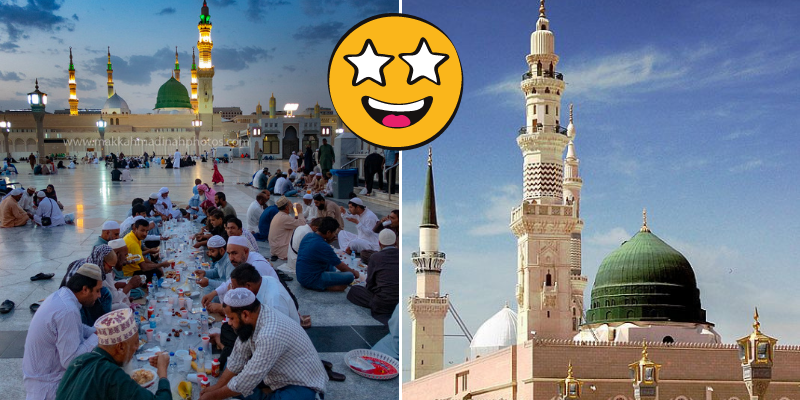 Ramadan is all about giving and that is exactly what Madinah has made sure to do with wonderfully distributing over a MILLION iftar meals to visitors of the Prophet's Holy Mosque
Iftar in Madina ❤️🙏🏻 pic.twitter.com/kHebG6TnE8

— 𝗙𝗮𝘆𝘆𝗮𝘇_𝗞𝗵𝗔𝘀𝗸𝗵𝗲𝗹𝗶🍹 (@YobOy_faizy) April 6, 2022

Iftar meals and gatherings were previously banned in the Kingdom due to the Coronavirus precautions within the past two years. However, the Kingdom recently announced the meals for the masses are back this Ramadan, and they are thriving.
Over 6 million visitors have made it to the Holy Mosque in just the first 2 weeks of Ramadan
Ma Sha Allah. May we all get to drink from here 🤲🏻#ZamZam #Madina pic.twitter.com/T3YqZGK1HK

— Mission Daily Updates (@Mishi827) November 28, 2018

The Kingdom made other arrangements for incoming worshippers on the holy month, including an abundance of ZamZam water, higher amount of slots for The Holy Rawdah, and removal of social distancing stickers, increasing space for the crowds. Over 1.2 million bottles of ZamZam had been distrubted this month along with 140,000 water coolers that are filled around three times a day. No wonder millions are flocking in to enjoy the Holy month in the blessed city!