Feature
Viral Pictures Of Saudi's Upcoming Floating Hotels Have Got The Internet SUPER Excited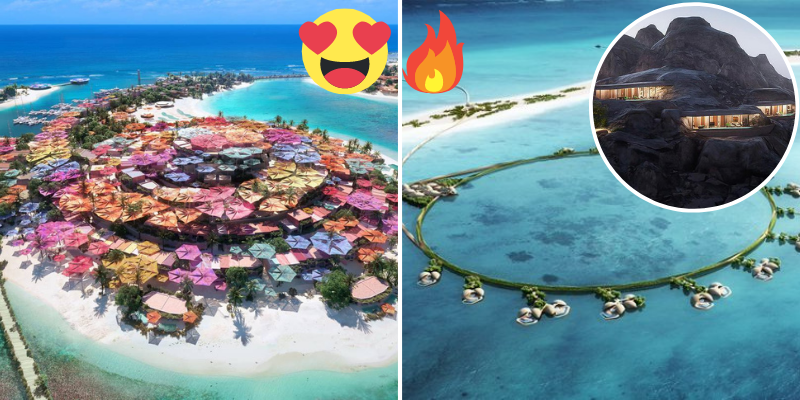 Pictures have been circulating on Jeddah's upcoming luxurious hotels that are definitely going to blow your mind
The Red Sea Development Company had released bueprints and conceptual photos of what these amazing sites will look like in the next few years. From hotels, to resorts, to even a whole re-vamp of the Jeddah corniche, these sneak-peak photos will definitely get you excited for what's coming.
شركة البحر الأحمر للتطوير تعمل على تطوير 16 فندقًا في #وجهة_البحر_الأحمر سيتم افتتاح 3 منها في مطلع عام 2023، كما تعمل على تطوير 8 فنادق في مشروع #أمالا pic.twitter.com/p6uG9UPv6C

— مشاريع السعودية (@SaudiProject) May 9, 2022
By next year, the Kingdom is looking to complete this project which includes floating hotels in mountains and pods on top of the sea! The St Regis will soon open with floating maldive-style hotels on the sea, and it looks perfect for a relaxing vacation. The picture with the colorful umbrella-like structures will soon be the Grand Hyatt The Red Sea, located at Shura Island. The design is as such to resemble the vibrant colors of coral, a signature part of the Red Sea.
سوهو سكوير مجمع مطاعم ومقاهي تحت الإنشاء بإطلالة مباشرة على #كورنيش_جدة الشمالي، ويمتد المجمع على أرض مساحتها 12,500 م2، وصُمم ليسمح بتوفير إطلالات وجلسات مفتوحة لجميع المطاعم البالغ عددها 20 مطعمًا pic.twitter.com/d9w1FtdndE

— مشاريع السعودية (@SaudiProject) May 4, 2022
This area, called Soho Square, is going to be the view of Jeddah Corniche soon enough, and it has completey transformed the look!
View this post on Instagram

The Red Sea will feature 9 luxury hotels, including famous names like The Fairmont, Jumeirah, Raffles, Intercontinental.
وش ذا الجمااااااال 😍😍😍

هذي جزء من جزر مشروع البحر الأحمر الي اطلقه اميرنا الملهم #محمد_بن_سلمان الله يطول بعمره ويخليه ذخر لنا 🙏🏻 ، اذا اكتملت المشاريع السياحية صدقوني ب نكنسل السفر ❤️❤️❤️ https://t.co/qjbhyeorST

— samer (@samer_al_w) May 10, 2022
The pictures were going viral throughout Twitter as users praised the Kingdom on their development and thanked the Crown Prince for transforming Saudi for the better.
شي الواحد يفتخر فيه ان مثل هذي المشاريع الضخمه جالسه تصير في المملكة وراح تكون وجهه مشرقه ومشرفه للمملكة وهذا كله بفضل من الله ثم الدعم الكبير من الامير محمد بن سلمان الي حريص على الارتقاء بالمملكة في جميع النواحي 🇸🇦💚 https://t.co/OJVmth3OOa

— نوره السيف (@Nouurra13) May 10, 2022
Nothing but good things to say about this exciting new venture. With Riyadh's Qidiya park already under construction, and the futurustic sustainable city of NEOM, Saudi has taken all its areas by a storm when it comes to getting ahead of everyone. Looks like the Kingdom will definitely thrive past the world in the next few years, and you can't miss it.