Latest
Karachi Eat Ends In Chaos As Stags Break In Through Barriers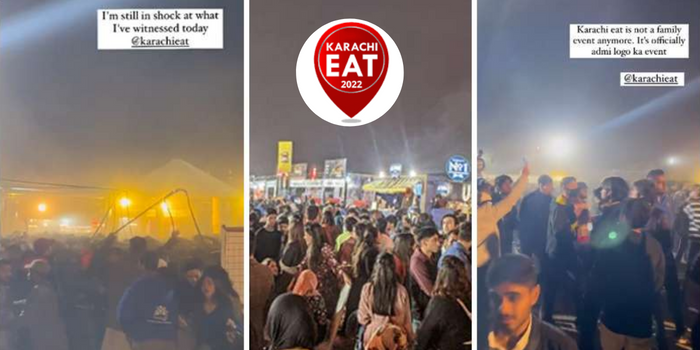 Karachi Eat turned 10 this year, and on the last day of the food festival in Karachi, administration was seen a little week – panic broke out due to lax security.
It is reported that while Kaifi Khalil was performing the panic was seen. Khaleel in middle turned the mics off and quit the concert. It is told that a group of unknown boys started harassing the K'Eat attendees. Khalil was told about it until someone threw a empty bottle on him from the crowd. He quit the show after the mishap.
The saddest part about Karachi eat was Kaifi khalil got hit by a bottle and started bleeding, shows how educated we pakistanis are 🙂

— Laibaa (@syedaalaibaaa) January 8, 2023
Kaifi shared a story on Instagram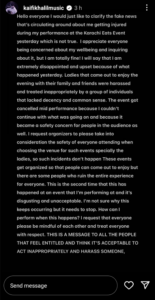 Young Stunners Refused To Perform At Karachi Eat
Karachi based rappers were aligned to perform next before the mishap & chaos began, young stunners refused to perform there.
Eyewitnesses share ordeal At Karachi Eat
Twitter was flooded with tweets bashing the poor administration of Karachi Eat and making out of the Beach View Park safely. Netizens were not happy on the 3rd day of Karachi Eat.
Stags broke the gates and forcefully entered #KarachiEat today. People are saying that they literally had to leave through spaces between walls and jump off them to get out of the chaos. Please ban such events in the city if security can't be managed.

— Armash (@armashshahab) January 8, 2023
There was almost a major stampede yesterday night at #KarachiEat. Barricades were broken. Women were harassed. Stuff was thrown at the performing artists. A 'family only' event turned into an 'All Men' event.
Women were told to leave using the emergency exits for their safety. pic.twitter.com/Rc4uFQyMB2

— l (@laylaaff) January 9, 2023
#karachieat #KarachiEat2023 pic.twitter.com/lPO2F1chIe

— Amna Adil (@AmnaAdilhussain) January 8, 2023
#KarachiEat2023 #karachieat pic.twitter.com/nEpCAx25Px

— Amna Adil (@AmnaAdilhussain) January 8, 2023