lifestyle
Things you can do on new year eve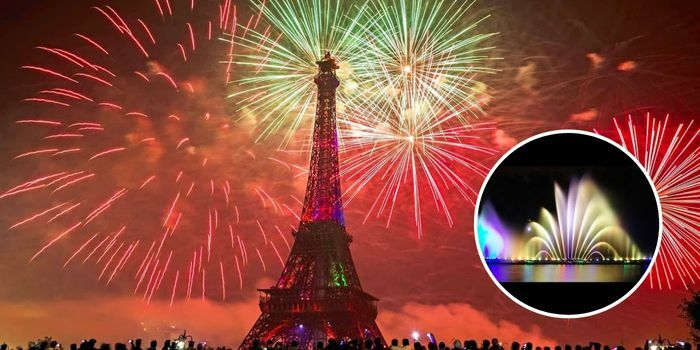 December 31st midnight is celebrated as new year eve, and People puts up the light, fire and water shows on that evening. as soon the clock hits the 00:00, you will see a new joy, lit sky and hopes on the face to make the upcoming year better.
There are many ways you can celebrate New Year's Eve and New Year's Day, depending on your interests and preferences. Some ideas include:
Attending a New Year's Eve party or event at a local venue or hotel. Many places host special events on New Year's Eve, complete with live music, dancing, and other festivities.

Having a dinner party or barbecue at home with friends and family. Gather your loved ones together and celebrate the start of a new year with good food and good company.

Going out to see fireworks or a light show. Many cities put on impressive fireworks displays on New Year's Eve. Alternatively, you could attend a show at a local venue.

Taking a trip to a nearby beach or park. Many people enjoy spending the start of the new year outdoors, enjoying the scenery and fresh air.

Visiting a local restaurant. Many restaurants host special events on New Year's Eve, featuring live music and other entertainment.

Staying at home and watching a movie or TV show. If you prefer a more low-key celebration, you could curl up on the couch with some popcorn and watch your favorite movie or TV show to ring in the new year.

On New Year's Day, you could also participate in traditional activities such as making New Year's resolutions, attending a parade or festival, or watching a sports game.
No matter how you choose to celebrate, be sure to be safe and have a great time welcoming in the new year!
For Fireworks
Sea View
Sea View is a popular spot for celebrating New Year's Eve in Karachi, Pakistan. Located along the Arabian Sea, it is a long stretch of beach that is known for its beautiful scenery and impressive fireworks display on New Year's Eve. You can see a magnificent firework show at the coast line.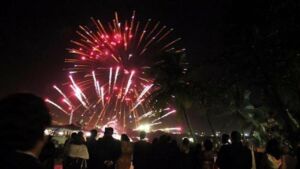 Bahria Town
All eyes will be on the replica of the Eiffel Tower this New Year's Eve. Bahria Town promises a massive fireworks display, where thousands of people gather in the town space to get the best view of the exclusive show. The old tradition is to celebrate New Year in full swing by lighting up the sky as the clock ticks at 12. The wave of happiness, hope, and the beautiful view awaken the nation to spread love and peace.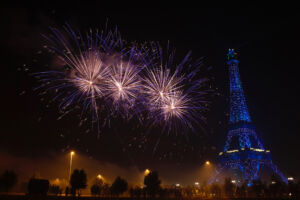 Do Darya
Do Darya is a popular dining destination in Karachi, Pakistan, known for its waterfront restaurants. The area is located along the Arabian Sea and features a variety of dining options serving local and international cuisine. Do Darya is a popular destination for both locals and tourists and is known for its beautiful dining options.
Maskan Chowrangi
Maskan Chowrangi is one of the best option to see fireworks in north side of the city. People of Gulshan-e-Iqbal can see the magnificent self fireworks at Maskan Chowrangi.
5 Star Chowrangi
North Side of Karachi's biggest crowd can be seen at 5 Star Chowrangi. The huge crowd awaits to see the best self fire works and it is the long firework show that is put up by the crowd themselves.
Entertainment
Arena
Enjoy indoor with lots of games, food courts, and fun activity at Arena in Karachi. Entrance fee for adults is 1500PKR while children entrance is 900 PKR. You can enjoy bowling, Ice Deck, Rock Climbing and many more fun activities in there. It is located at Karsaz Road, Karachi.
Port Grand
Port Grand is an entertainment complex in Karachi, Pakistan. It is located on the waterfront and features a variety of restaurants, shopping, and live music. Port Grand include different types of food at the Food Street, watching a movie at the Grand Cinema, shopping at the Grand Arcade, visiting the Grand Gallery to see art exhibits, attending a live performance at the Grand Stage, renting a boat or yacht at the Grand Boatyard, enjoying the rides and games at the Grand Playland, walking or picnicking at the Grand Green, visiting the Grand Aquarium to see marine life, or browsing the collection at the Grand Library. Overall, Port Grand may be a particularly appealing destination for tourists who enjoy a mix of dining, shopping, and cultural activities.
Musical Night (New Year Special)
Bahria Town
Atif Aslam will perform live at Bahria town along with some fellow artists.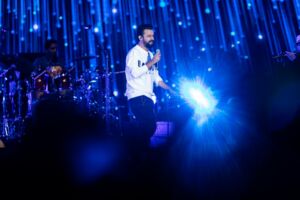 Dancing Fountain
Bahria Town
Bahria Town sets up the best dancing fountain show in the city.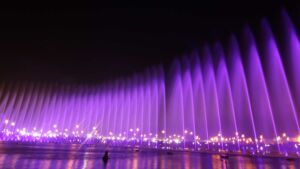 Read This: Try These Desserts in Winters