Community
Featured Artist: Getting To Know Sudalove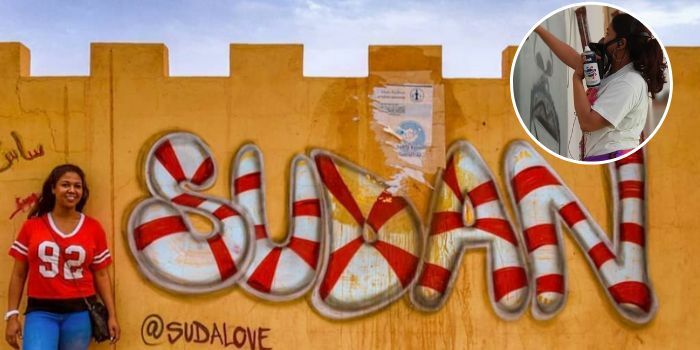 Assil Diab, better known as Sudalove, is one of Sudan's most prominent Graffiti artists. Her art pieces speak loudly addressing various topics that vary from social, economic, and political issues. Not only is her art pleasing to the eye, Sudalove's art seeks to have an impact beyond just visual, by sparking conversations about important issues that require raising awareness in Sudan.
View this post on Instagram
Upbringing and Inspiration
Born in Romania, and spending the rest of her upbringing in Qatar and the US, Assil began her graffiti journey in the year 2013.
Assil finds inspiration for her art from various ways such as human interactions, or struggles which "incorporates all senses; mood, visuals and even sometimes, smell". Assil places great effort and prominence in gathering inspiration for her pieces. She finds inspiration in talking to people who reside in the chosen area for an art piece, studying the area and the likes before initiating a new masterpiece.
View this post on Instagram
Recent work
A lot of Assil's recent work has been murals depicting portraits of people. These include people who have contributed to Sudanese society, but more notably, martyrs who have lost their lives fighting for democracy in Sudan. Assil has painted almost 40 martyrs on the walls of their homes to commemorate their memories and keep their spirit alive, as well as leaving the portrait as a constant reminder of their valuable battles. We find that this perfectly delivers what she describes her art as:  "A medium used to express the voice of the people".
View this post on Instagram
Next steps for Sudalove
Assil is currently working on a documentary which follows the revolution from its beginning, around 2013, to the fall of former president Omar Al Bashir in April 2019. We are anticipating this documentary will be a thought-provoking and stimulating piece of art that we cannot wait to experience!
View this post on Instagram
Dream project
Assil's dream project, which we also hope to be executed soon, is the formation of a center where local talent is showcased with workshops and art classes made available to all aspiring artists in Sudan. We find that Sudalove's mission can be the much-needed gateway for Sudanese art to thive and further obtain the exposure needed in order to become more known on a world-wide level.
View this post on Instagram
To get to know Sudalove even more, visit her instagram page at @Sudalove where you will find an abundance of her beautiful and stimulating street-art work!
Enjoyed this? make sure to stay up to date on #LovinKhartoum
Written by Nasreen Hamid