Community
Getting To Meet: Gaidaa On The Nile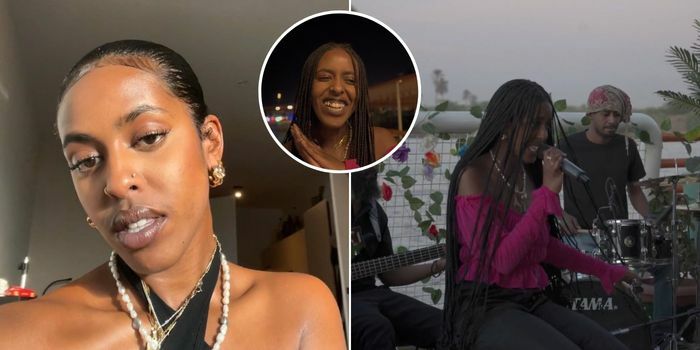 Gaidaa is a Dutch-Sudanese singer who creates soulful R&B music with acoustic instrumentation and candid lyricism. If you're on the hunt for a hot, fresh artist from Sudan, she's definitely worth it!
View this post on Instagram
Having grown up between the Netherlands and Sudan, Gaidaa was able to explore herself and her various interests in two totally different environments. Having built a young professional status, she has a very unique and exploratory sound that began from writing, to recording, and even touring whilst attending school. 
In 2018, Gaidaa released "A Storm On A Summer Day", a track produced by Dutch producer Full Crate that currently almost has 500K streams.
Never-ending Inspirations
More than a lesson on resilience, Gaidaa has been a true inspiration especially when it comes to Sudan and it's history.  In 2019, during the political crisis in Sudan, she wrote a peaceful and meaningful song to bring awareness to the ongoing situation. Growing up in the middle of two different cultures – the Netherlands and Sudan – the investigation of her own identity led her to the beautiful artist she is today. Through this complexity, a unique artist with an authentic voice has risen.
We recently asked Gaidaa a few questions as she had just played her first headline show in Khartoum, and we were LOVIN her energy.
How does it feel to perform here in Sudan today?
"It's surreal it feels very overwhelming in the best way possible, I was pretty nervous before we started because I realised a couple of days ago this is my first headline show, in Sudan, on the Nile. It was mind-blowing, very warm, and very blessed"
When was the last time you visited Sudan?
"The last time was in 2019 so the vibes were absolutely different in 2019. It's been a minute. The vibe has changed every time I'm here"
View this post on Instagram
How does it feel to be back with one of the core fanbases that you've built?
View this post on Instagram
"It feels very warm and overwhelming, I didn't expect anything, how people were going to react I just felt a lot of emotions. I was ready to cry from the beginning and I felt a lot of love"
How would you describe the current music scene in Sudan?
"It's booming actually, there are a lot of talented people here and they got a lot of crazy talented projects going on and going up."
What are your upcoming projects, and what are you currently working on?
"I'm currently working on my next project, the second project. It's still under process and it's coming very soon."
What's one thing no one knows about you?
"I'm a very anxious person, I think about everything all the time.  But I'm working on it, I'm trying to be better. All I do on the weekend is play sim, the love of my life. I'm sims addicted"
Do you see yourself collaborating with a Sudanese artist?
"For sure, there's a long list, RoTation, for example, and my cousin who's an upcoming artist, Moony, shout out to Moony."
What's been one of your favorite songs and why?
"Definitely Morning Blue, because it holds a very special place in my heart and has a lot of meaning to me, but also Falling Higher because it cemented a specific moment for me."
How do you find inspiration to write music?
View this post on Instagram
"Life kind of happens and I get to talk about it, otherwise I can't cope."
Gaidaa has challenged herself to do modern things and, more importantly, to find unused strategies for feeling comfortable as the world has opened up to her. Her melodies are the perfect foundation for self-discovery since they continuously hit the spot.
Enjoyed this? Check us out on #LovinKhartoum and read our latest here!