Community
Meet The Woman Behind These Wonderful Art Initiatives Happening In Khartoum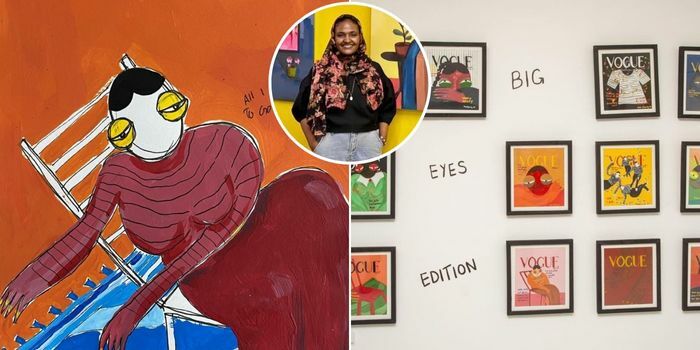 After experiencing years of oppression, and the beginning of the Sudanese Revolution, Sudan's capital Khartoum, as well as other large cities in the country have been witnessing a major art movement that can be argued as one of the richest that we've seen in decades. 
Art in the Revolution:
Helping vocalise the dreams and ambitions of a generation that thrives for freedom, peace, and justice, art began to play a central role over the past years in Khartoum. 
Now, graffitis, murals, and other visual arts have become prevalent throughout Khartoum and other large cities, especially in monumental areas such as Al Qiyadda. 
View this post on Instagram
Who is Reem?
Reem Aljeally is an artist and architect that has been passionate about her art ever since a young age – and officially set off to launch a career in the field after her first solo art gallery in 2017. 
View this post on Instagram
The Founder Behind The Muse
In 2019 she launched her multi-studio "The Muse", which can be described as a creative space that promotes arts. Through its social platforms, The Muse has been promoting and educating the public about different Sudanese artists and their art, and through its projects, exhibitions, and workshops, it quickly became a medium for young artists to showcase their art, develop their skills and connect with others of their like.
House of Females
A notable mention to one of the outstanding projects of The Muse is Bait Alnisa. Translating to the Home or House of Females, the project focused on becoming a platform solely for female artists. 
In 2021 it hosted the first female-only exhibition for 23 young female artists who presented their art through different mediums such as painting, designing, sculpturing, and many more exciting things…
View this post on Instagram
In its second edition, Into The Gallery exhibition showcased the work of 19 young female artists at Omdurman Cultural Center earlier this August, from which during their closing evening they hosted a panel with Nisreen Kuku, Sulaf Elamin & Rayan Khalil – three unique female artists that have impacted the art scene in Khartoum.
Promoting the work of both young and older Sudanese females on their socials, Bait Alnisa remains to be inclusive to all the women of Sudan!
View this post on Instagram
Reem's art
In her early beginnings, Reem's work consisted of sketches of portraits and replications of other great artists' pieces such as Starry Night by Van Gogh and a self-portrait by Frida Khalo. She also produced a full collection of Harry Potter-inspired paintings.
It wasn't until 2018 before Reem launched her famous characters – replicating female figures that were experiencing numerous emotions that spoke volumes just by their eyes.
That was particularly obvious in her most recent exhibition "Born in Memory" at Savannah Innovation Labs as well as "Middle Voids" at The French Institute. We believe that her background in architecture continues to drive Reem to discover the relationship between females, the voids that they tend to experience, and even, the glass ceiling that still exists for young women in Sudan. 
View this post on Instagram
Reem's female figures always convey deep emotions, they reflect tiredness, calmness, and wisdom, they always exist tirelessly in a not-so-sure posture, but in a dominant way that you can not deny, occasionally interacting with the other elements in this space; a chair, an apple, and even a cat!
She's truly a pioneer!
The impact of her paintings, and her art activations in Khartoum through The Muse and Bait Alnisa have been killing the game as she continues to offer young artists a platform to produce, present, learn and change their experiences. 
We're Lovin That! 
This is not even the half of it @ReemAljeally__ is just heating up 🌸❤️🙏🏾🧿 https://t.co/PI25cSq4pb

— Yousif Yahya (@YousifMYahya) July 7, 2022
Enjoyed this? Make sure you follow our pages to keep up with us or visit our latest articles here! #LovinKhartoum
Written by Thuraya Salih