Latest
Check Out These Buzzing World Cup Fanzones In Khartoum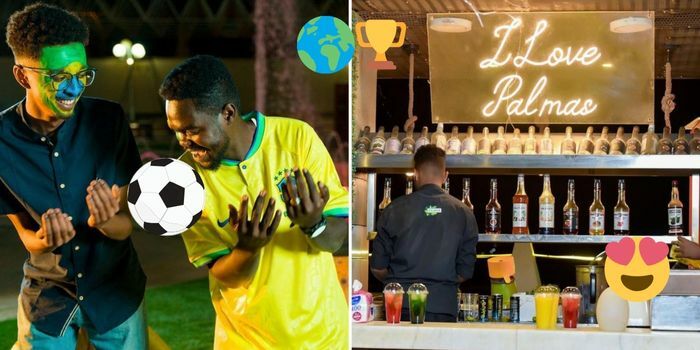 All eyes are on the World Cup, which brings people from all over the world together. Restaurants and cafes in Sudan have been bringing people together in an atmosphere that Khartoum has never seen before. This time the World Cup isn't just for the boys, but for everyone else too.
8.
International Nile Club
During the opening night of the World Cup, the International Nile Club in Al Nile street offered
free entry for the first 100 people. They're also going to stream the games every day on their big screen on the club's large terrace, representing their motto "As if you're there!"
View this post on Instagram
7.
Odiva restaurant
Taking advantage of the cool breeze, Odiva covers the World Cup games in a calm and aesthetic
environment, making it the perfect spot for families and friends. As the teams compete for the
ball, Odiva competes with delicious food and flavorful mojitos. Don't forget to call and reserve
your table today!
View this post on Instagram
6.
The Rooftop – Khartoum
Watching the world cup is amazing, but you know what's cooler? Watching them with a view.
The Rooftop is known for always radiating positive energy with their infamous musical nights – this time covering the World
Cup. It's also the PERFECT spot for a date! 😉
View this post on Instagram
5.

Al Salam Hotel
Al Salam Hotel really took Fanzones to the next level. They're currently displaying the World Cup matches as
well as throwing in a whole sports theme, making it enjoyable for children, families, and youth
alike. Video games, a football table, and a menu specific to FIFA World Cup Qatar are available all night long. 
View this post on Instagram
4.
Food Point
It's not just about feeding your hunger, but it's about doing it whilst enjoying your favourite comfort food. Pretty hard to miss on 117 St. FoodPoint is fully decorated with flags all over right now! Throughout the matches they will have special offers for guests, and will also be running cheeky competitions for those who can guess the match results. 
3.

K2 

Restaurant
K2 restaurant (that is in Khartoum 2) continues to provide their visitors with non-stop activities that make not stopping by a hard thing to do. Besides hosting pottery painting every Friday, K2 restaurant now screens all the World Cup games on their huge screen in an outdoor setting, offering delicious food, drinks, and hookah with only a 2,000SDG entry fee.
View this post on Instagram
2.
Palmas
Palmas continues to spread positive vibes along Al Nile street as it's wonderful management and team continue to keep up with all the latest trends. Like they always say: Dine. Vibe. Relax. and watch the matches on a big screen by the beautiful scenic views of the River Nile. 
View this post on Instagram
1.
Becasso
The newly opened cinema that opened its door this May is now taking streaming the live games to a whole other level. Aside from their hip selection of movies, they've dedicated this month to the World Cup and its fans to become one of everyone's favourite fanzones in the city. 
View this post on Instagram
Enjoyed this? Make sure you check out our latest on #LovinKhartoum, we love to hear from you!