Things To Do
10 Art Galleries And Museums In Sudan To Check Out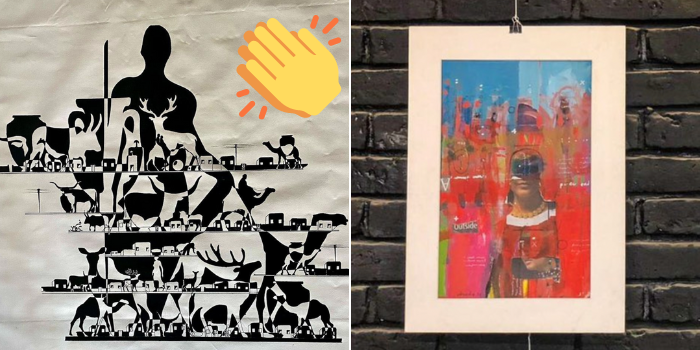 With Sudan being one of the world's most ethnically diverse countries, it's not surprising that Khartoum's art demonstrates an array of different styles, influences, and techniques. Here are 10 art galleries and museums in Khartoum that you must visit! 
10.
The Downtown Gallery
A joint project between Sol Creatives and Downtown Hotel & Business Center, the Downtown Gallery is designed to change the concept of art curation in Sudan and make it more impactful.
Known as "The Hidden Gem of Al souk Al Arabi", The Downtown gallery is a social movement encouraging young people to develop their creative identities, with a wall that can accommodate up to 18 pieces of art and an art store adjoining.
 Opening hours: 9 am – 7 pm
Location: Khartoum 2, Khartoum, Sudan
View this post on Instagram
9. Dara Art Gallery
The Dara Art Gallery is a professional gallery dedicated to contemporary Sudanese art, established in late 1999 by Rashid Diab and Mercedes Carmona in their Khartoum home. The gallery aims at creating a space where artists from Sudan could exhibit their work in a professional environment as well as providing access to a wide variety of modern and contemporary artworks to art connoisseurs in Sudan.
Location: Al-Amarat Street 47, Khartoum, Sudan
Opening Hours: Saturday to Thursday
Visits only by appointment
View this post on Instagram
8.
 The Muse Multi Studios
Inaugurated by Sudanese artist, Reem Aljaally, The Muse Multi Studios is a creative venture that promotes creativity through both spaces and activities that facilitate artistic creation, production, and cultural understanding.
The Muse provides a good learning environment for artists and art lovers, especially with its educational focus, which includes organizing exhibitions, lectures, workshops, discussions, etc.
Location: Khartoum 2, Khartoum, Sudan
View this post on Instagram
7. Someet Gallery
With a cozy home-like ambience and a small but tasty menu, Someet Gallery & Cafe is the perfect spot for peace of mind and a dose of art… In addition, a variety of handcrafted goods, antiquities, and artworks are available at Someet.
Opening hours: 6:30 am – 11 pm
Location: Al Jazar St, Riyadh, Khartoum
View this post on Instagram
6.
Rashid Diab Arts Centre (RDAC)
RDAC is a leading Art Centre that fosters and promotes contemporary art, and creative entrepreneurship.
Through his art Centre, Rashid Diab aims to nurture individuals' uniqueness and cultural heritage, giving artists of all ages a chance to exhibit their work here and explore different mediums, whereas amateurs and children can also participate in painting, drawing, sculpting, pottery workshops.
 Opening Hours:
Sunday – Friday 9am-3pm
Saturday 11am-2pm
*Sunday Exhibition Openings & Weekly Forums from 7pm-11pm*
Location: El Girief, Khartoum, Sudan
#Artist Saddig Al Balom kindly donated this #papermache Head to our Private Collection #art #Khartoum THANK YOU! pic.twitter.com/4wxJfKVmxt

— RDAC (@Rashid_DiabAC) March 4, 2014
5. Dabanaga
Dabanga is home to very high-quality and unique handcrafts, artworks, and other creative work from Sudan and Africa. The shop sells paintings, sculptures, jewelry, body accessories, and furniture, among other items, another perfect spot for art collectors to expand their art collections.
Location: 15th St, Khartoum
Opening Hours: 9AM to 9PM
View this post on Instagram
4. Mojo Gallery
The Mojo Gallery is an interactive creative platform for artists coming from different backgrounds in fine arts and design.
By creating a multifunctional art space, they help bring together creative forms of art, such as painting, calligraphy, and photography. Mojo Gallery organizes exhibitions with contemporary themes that explore art beyond traditional formats.
Location: Intersection of McNimir Rd with Africa Rd, Khartoum
Opening Hours: Sat-Thru 10AM-9PM
View this post on Instagram
3.
Remenar Art Gallery
Situated in the busy Riyadh, Remenar Art Galley features everything from original artworks, historical artifacts, antiques, and accessories to different handicrafts. A perfect space for art collectors to create or expand their art collections.
Opening hours: Daily 8:30 am – 4:30 pm. Closed on Fridays.
Location: Al Jazar St, Riyadh, Khartoum
View this post on Instagram
2.
Sudan National Museum of African Art
Established in 1975, the Sudan National Museum of African Art museum houses the world's largest and most comprehensive collection of Nubian archaeological artifacts, originating from every significant site in the Sudan, including those from the Paleolithic to Islamic periods.
The museum has some stunning royal statues and perfectly preserved 3500-year-old artefacts from Kerma, numerous medieval Christian frescos removed from the ruined churches of Old Dongola and some relocated ancient temples.
Location: El Neel (Nile) Avenue in Khartoum in Al-Mugran
Opening Hours: All week, expect for Monday, 9AM to 5PM
1. Khalifa House Museum
The Khalifa House Museum is an ethnographic museum managed by Sudan's National Corporation for Antiquities and Museums (NCAM), located within the historical area of Omdurman opposite the Mahdi's tomb.
A number of artifacts of the Mahdiyah period are on display in the Khalifa House Museum, including suits, Mahdist coins, flimsy banknotes issued by Gordon during the Siege of Khartoum, swords, and personal belongings attached to the Khalifa.
 Location: Opposite the Mahdi's tomb in the city of Omdurman
Opening Hours: All week, expect for Monday, 9AM to 1:30PM
View this post on Instagram
All these galleries, among many more, are a must see for your next visit to Khartoum, or on your weekends! It's time to see the city from a whole new perspective!
If you're not keeping up, make sure to follow us on Instagram for the latest updates! #LovinKhartoum
Written By Islam Eltayeb