Latest
From Fitness To Adventure and Even Relaxing: Here Are 10 Items That'll Give Your Life A Purpose This Summer
From Fitness To Adventure and Even Relaxing: Here Are 10 Items That'll Give Your Life A Purpose This Summer
Time to turn that summer frown upside down!!
Is summer 2020 getting a bit too mundane for you? Then change the waves by getting a load of these 10 items and have yourself blast with the gang all month long, or get squeeze in some me-time to work on yourself and your summer bod.
Summer will just fly by, so make the most of this season before it's back to the grind!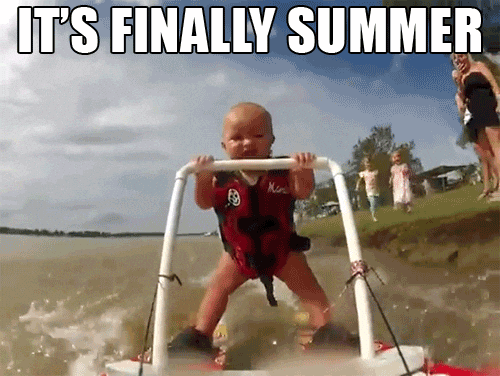 10. This budget-friendly Luxury Fam Pool will have you and your pals living your best summer life this 2020!
Buy it from Amazon for AED 125.40.
9. Let's just sleep until 4pm all summer long and then hit the beach? Deal! Go prepared with this Nifty Sports Umbrella to protect from blinding rays.
Promising review:
"Great kit for shadows for many: Great product for the price."
Buy it from Amazon for AED 295.00.
8. These XShot Reflex Dart Guns are perfect for a dual play! This combo comes with 2 revolvers, 6 target cans and 16 darts. Get your guns out boys, cuz issa summer battleeee!
With the Reflex 6 Combo Pack, you can have the best firing rate with a 6-dart capacity rotating barrel blaster, or dual wield for total domination!
Promising review:
"Great toy and the darts are not dangerous at all if children are taught to handle these blasters properly.
These blasters are a bit difficult to handle for children under 6 (as per product description) because it is hard for them to load the blaster (pull the handle on the back). Overall, great toy, fantastic price and a lot of fun for the entire family."
Buy it from Amazon for AED 149.00.
7. Learn how to pull a double dutch or up your stamina with this Fitness Jump Rope!
Buy it from Amazon for AED 39.99.
5. How bangin' is this Giant Inflatable Eggplant?! Lay back and be floatin' around on the edgiest veggie of 'em all.
Buy it from Amazon for AED 130.00.
4. Helloooo relaxing metallic pink Giant Flamingo Inflatable Pool Float?! Just one snap with this on IG feed and your DMs will be floooded.
Buy it from Amazon for AED 123.98.
3. These 16 darn cool floating cup holders (that comes with a pump) will make you never, we repeat NEVER want to leave the pool
Your friends will be green with envy seeing all your boujee pool stories.
Promising review:
"Amazing idea if you're having a party at home. It comes with a pump, very easy to use…"
Buy the pack of 16 from Amazon for AED 40.99.
1. Get fit and flexy this summer with the help of this mini Foldable Exercise Trampoline.
But trampolining is a super fun way to get exercising and werking up your muscular system without breaking much of a sweat! So get yo'self your very own trampo and you may never need to hit the gym again. Woopaaahhh!
Promising review:
"This little trampoline is just perfect. It currently resides in our living room where my wife uses it constantly. She was originally skeptic of its sturdiness but is now convinced that all is well. I looked for something with the spring cover so her foot wouldn't go through and hit the floor. I also thought the complete bar to hold onto would be better than the others offered. It is solid enough that I hope she gets to use it for many years to come. I would recommend this trampoline to anyone. I would buy this trampoline again."
Buy it from Amazon for AED 325.52.