Latest
Inspired By The Latest Season Of 'The Politician' To Reduce Your Waste? Then Here Are 7 Reusable Products That You'll LOVE
Inspired By The Latest Season Of 'The Politician' To Reduce Your Waste? Then Here Are 7 Reusable Products That You'll LOVE
Hollering all Netflix binge-watchers!
If you just binge-watched the second season of Netflix's drama-comedy, The Politician, over the weekend then you're probably as shaken about climate change as I am and wanna go ZERO WASTE ASAPPPP!
The show's 2nd episode is all about Infinity Jackson's zero waste journey and that darn episode is one heck of an eye-opener.
From her epiphany moment to her environmental activist awakening, that episode was proof that our generation is becoming the part of the climate change conversation and it's about time that we here in Dubai do too!!
Ignoring the booty coffee, the initiatives that Infinity takes are pretty LIT; as Infinity decided to live a zero-waste life full of:
Metal straws
Reusable plastics
Compost bins
Hand-washing her own clothes
…Managing to fit her year's waste in one mason jar. Plus, her eco-friendly ways to go zero waste are all very do-able.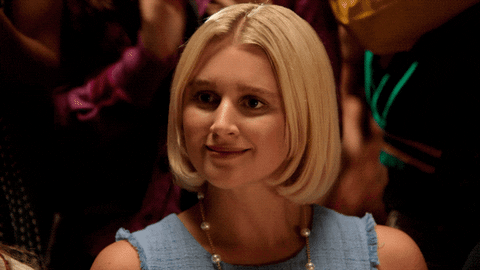 7. A pack-of-12 delightfully chic Metallic Reusable Metal Straws complete with a cleaning brush, so you can not only replace disposable straws but you can do it with styleeee.
Promising review:
"Love these for entertaining and just every day. They look so chic in highball glasses and are a much more environmentally sound option than the traditional plastic."
Buy the pack of 12 from Amazon for AED 35.00.
6. No, no, noooooooo seriously it's time to say a big fat NOOOO to plastic bags! Go shopping with this Sturdy and Durable Reusable Jute Shopping Bag and put an end to all the unnecessary plastic waste!
Promising review:
"Good value for money."
Buy it from Amazon for AED 19.00.
5. If a bland-looking bag is a major fashion faux-pas for you then this Stripped Canvas Reusable Shopping Tote will be the perfect companion for all your shopping trips! Just place all your purchased items inside these bags instead of carrying around a gazillion plastic/paper (tearable) bags!
Buy it from Amazon for AED 69.76.
Promising review:
"My family and I love these brushes! We've had them for several weeks – the bristles seem thinner (hard to explain) and able to get in between my teeth easier. I am using the same toothpaste as before, but my teeth feel much cleaner afterward. Just like I came from a cleaning at the dentist. I thought they were pricey at first, but you get 8 brushes. We will repurchase."
Buy the set of 8 from Amazon for AED 64.52.
3. Do you know where your disposable masks end up?! Back in the sea suffocating marine life!! Make a change and start using this washable Fine Guard Comfort Adult Face Masks instead, that can be reused for a whole year!
Plus, this reusable mask can help solve some of your summer mask problems by keeping you cooler in the heat.
Promising review:
"I tried other masks and felt suffocated. I decided to try this one and what a great product! Comfortable to wear and easy to breathe in. I read up about the product on their site. Their masks have been certified and tested by various laboratories around the world. Very safe product to buy in these strange times."
Buy it from Amazon for AED 79.00.
2. A Sleek Compost Bin you can keep next to your kitchen sink, witha charcoal filter trap and an easy-grip handle and a flip lid that prevents odours from wafting out.
Promising review:
"This stainless steel compost bin is amazing! The lid has a washable foam filter that miraculously keeps the smell contained. I have a bad habit of buying "good intentions" (aka fresh produce) which often goes bad before anyone thinks of eating it, which is what started us on the composting kick anyway – we were tired of watching all the produce get wasted so we started a compost tumbler for our veggie gardens (will this become a vicious cycle? ?‍♀️). I was using a 3lb coffee can but found it would rust the can before I finished a new can, plus it stunk up the house within a day! I have produced in this bin for several days and can't even tell! I bought a second for my mother because it works so well!"
Buy it from Amazon for AED 126.92.
1. A HIGHLY recommended Eco-Friendly, Plant-Based Laundry Detergent (Biokleen) you'll especially love if you have sensitive skin — it's made with natural, organic, and biodegradable ingredients.
Promising review:
"We've been using this detergent for probably 10 years. I buy a case at a time. With an HE washer, you only need one tablespoon of the detergent. Out of curiosity one time, I labelled a box to see how long it lasts us. We are a family of three who probably do a load a day (thanks to one messy kid and a very active lifestyle) and one box lasts about three months! A case lasts us about 3.5-4 years, so it is an amazing value. I will also add that the smell is very pleasant, almost non-existent, which is very important to us because of headache issues with strong smells. And the detergent works fantastic…gets out stains and does not fade clothes. Highly recommend."
Buy the pack of 8 from Amazon for AED 63.41.
Note: This article may contain affiliate links. Lovin Dubai can receive a commission if items are purchased through a link from this post.