Announcements
Dubai's Confusing Weather May Just HIGH-Key Be Telling You To Stay Indoors This Eid Break
Dubai's Confusing Weather May Just HIGH-Key Be Telling You To Stay Indoors This Eid Break
You might just think it's nature telling you to stay indoors, but NO, in fact, it's Dubai telling you to stay indoors! Major brownie points for those who can guess why… and if you guessed cloud-seeding then a 100 points to you.
The confusing weather thas been swamping over Dubai on Sunday afternoon, is the result of cloud seeding as confirmed by the National Center of Meteorology, (NCM).
Confused residents are completely shocked at the sudden change of weather that raged on with ZERO warning signs. From a hot and dusty morning to a sandy/dusty afternoon that was almost immediately followed by thunder and light showers.
…Sandstorm and rainstorm… what a great combo *facepalm*.
Cloud seeding getting mother nature all confused once again…
On a serious note, the NCM has advised all UAE residents to take precautions when driving as strong winds and heavy rains could lead to poor visibility. Residents are also being cautioned to stay away from areas of flash floods and accumulated rain.
أمطار مختلفة الشدة على مناطق متفرقة من دبي
Rain with diffrent intensity over scattered areas of Dubai#أمطار #أمطار_الخير #استمطار #تلقيح_السحب #المركز_الوطني_للأرصاد#Rain #Cloud_Seeding #NCM

— المركز الوطني للأرصاد (@NCMS_media) May 24, 2020
Hail was also on the list of 'Dubai weather events' on Sunday afternoon… Seriously how random could today's weather get?!
It's funny how it's proper summer out here and then we have this one Sunday throwing all kinds of scenarios ranging from hail , sandstorms , rain and lightning at 3:30 in the afternoon. Dubai weather FYI. #dubaiweather pic.twitter.com/ICbX68FR0I

— Niki (@MsBelleNiki) May 24, 2020
Well… 'nuff said! This tweet just about sums up today's weather PERFECTLY!
If anyone wants to know what the weather in Dubai is like, I've just seen an inflatable pool whizz by my balcony…

— Nick Dahlink (NickIGN)💅🌈 (@theregos) May 24, 2020
Weather predictions: "A clear sunny day for Dubai"
Dubai: *Urmm NO*…
Astonishing weather in Dubai.
Dubai Hit by thunder and heavy Rain@khaleejtimes @gulf_news pic.twitter.com/UtG51xhxd6

— muhammad nouman ali (@Noumanrkt) May 24, 2020
Clearly Dubai roads are full of inflatable pools just flying around LOL…
If you've got an inflatable pool that's still lying outside, intact, then HURRRYYY and anchor it down with something before that blows away too!
Sandstorm in Downtown Dubai.
Cool! #DubaiWeather#Dubai pic.twitter.com/JSPJqCC159

— Hellsmaw (@BrettMagill) May 24, 2020
Many Dubai residents were also treated to a super RARE rainbow sighting today!!
View this post on Instagram
Guys, be prepared with anything Dubai's unpredictable weather throws your way with a windproof and durable UMBRELLA!
It'll come in handy almost EVERY TIME.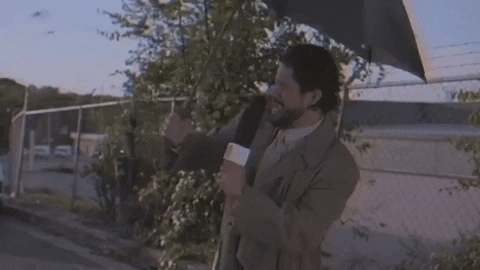 This article may contain affiliate links. Lovin Dubai can receive a commission if items are purchased through a link from this post.