Latest
Don't Do Drama! Do Nails With These 13 Essential Nail Colours That Every Lady Needs In Her Life
EVERY. GIRL. NEEDS. THESE. PERIOD.
Who cares if your life isn't perfect as long as you've got 'em nails on fleek! *Wink
Queen Riri sure gets what we're on about!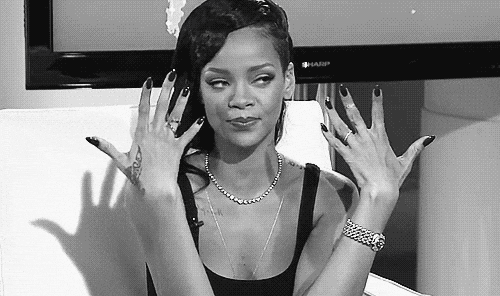 13. A classy shade of the night! This noir shade by L'Oreal Paris will give you the most intense colour and shine in one stroke
Buy it from Amazon for AED 18.
12. This white dreamy shade will make your nails to look as boujee as they possibly can: Because you always need a white polish at your disposal. Always.
Buy it from Amazon for AED 16.
11. Having a good quality natural base coat polish, to protecc 'em nails is just standard you guys!
Buy it from Amazon for AED 35.
10. Essie: A brand that salon experts SWEAR BY! This topcoat clear polish will instantly seal in the colour and provides a sleek, and vibrant finish to your look
Buy it from Amazon for AED 50.20.
9. An essential minty blue colour just adds that bit of delicate charm to your everyday lewk! A very princessy-Cindy colour that can do you no wrong
Promising review:
"Am amazed at how long this polish holds up! Generally, after only a day or two, regular nail polish is chipping and wearing down at my nail tips.
With this Essie Gel Couture polish, I am pleased to have my nails looking good for close to a week- through dishwashing, housework and with frequent handwashing and use of Purell at my job.
The colour choices are decent. Drying time is same as regular polish. Regular acetone polish remover works fine.
Definitely feel the price is worth it – because this polish looks great for a longer time than any other I've used. And must add – have not noted any damage to my nails from use, which had happened when I had gel manicure at a salon. Remember to also use the topcoat- protection and great shine!"
Buy it from Amazon for AED 26.
8. It's very unlikely that you don't already have a red shade lying around, but just one stroke of this feisty red colour from L'Oreal Paris will set ANY and every look on fire
Enriched with a blend of precious oils for the most intense colour and shine that you can get in just one stroke.
Buy it from Amazon for AED 30.
7. Every girl needs a lil sparkle in their lives! This fun dazzling pink rose shade from Wet n Wild will add that much-needed bit of glam that was missing from your look for oh-so-long
Buy it from Amazon for AED 16.
6. Brighten up your outfit and look with this sunny yellowww shade of happiness
Buy it from Amazon for AED 7.
5. Living in the city of gold and don't own a gold polish?! Urrmmmm gurrll, do right by your city and get this metallic gold shade, that you will be obsessing over every day…
Buy it from Amazon for AED 14.56.
4. You can never go wrong with a nice shade of pink, that adds the appropriate pop of colour to just about any and every outfit!
Buy it from Amazon for AED 13.25.
3. When dressing for a formal meeting or event, this neutral light sandstone shade will have you looking your best without much of an effort at all
Buy it from Amazon for AED 14.56.
2. Having a nice light pink/Rosey shade in your nail polish set is like having a life raft! An everyday appropriate colour, that adds that tinge of colour and can save your nails from looking like a drab
Buy it from Amazon for AED 11.47.
1. This bold and vibrant OPI teal shade will add a dash of daring to your OOTD like none other!
Promising review:
"I love how fast it covered my nail, just two layers and it was done, and it really lasts up 10 days. The colours are awesome, I already got 10 different colours, I love the quality of OPI."
Buy it from Amazon for AED 18.