Latest
These 8 Squishy Toys Will Give You The Ultimate Satisfaction
These 8 Squishy Toys Will Give You The Ultimate Satisfaction
Squish… squish, squish, squish, squish, squish… the more you say it the weirder it sounds. Huh, crazy!
Anyway, for those going a little coo-coo this quarantine season and (like me) are having the strongest urge to just SQUISH the living life out of things, here are 8 squeeze toys for you.
Yallah, go crazyyyy!
Satisfaction level x10000000000!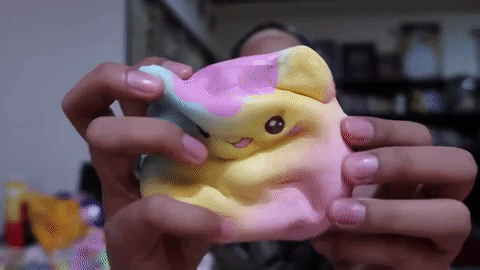 8. Squeeze this Jumbo Strawberry Squishy Toy into pulpppp and relieve your quarantine frustration once and for all
Promising review:
"It's a nice jumbo size that my daughter really liked it."
Buy it from Amazon for AED 15 (down from AED 111).
Buy it from Amazon for AED 18.
6. A little creative squishy foam time for kids and adults never hurt nobody! Shape the squeeshhyyy foam into a number of fun 3D shapes with the molds provided in the package
Includes 1 unicorn- and 1 rainbow-shaped silicone molds; and 4 pods of mini Playfoam.
Promising review:
"Fun mouldable foam! My son loves this stuff and the whole family loves sitting around and sculpting. Makes a great activity for the family with pretty much no mess. We store in zip locks and they last a super long time for countless uses."
Buy it from Amazon for AED 40.70.
5. Squeeze the annoying smile off this Jumbo Galaxy Ice Cream Cat Soft Toy!! *crunched up face and evil laugh* The cat is soo judging us right now tho
Buy it from Amazon for AED 80.
4. Long-distance relationship not working out?? Remove all your built-up frustration on this Large Popcorn Squishy toy
Buy it from Amazon for AED 22.20.
3. This little Coww Squishy Toy is waaayy too cute to not pull out its chubby wubby cheeksss
Buy it from Amazon for AED 19.50.
2. These Squishy Mesh Slime Balls might just be the most SATISFYING squishy balls EVER.
Promising review:
"My daughter went through a couple of these on the first day we got 'em, safe to say we'll run through the whole box within a month."
They'll look a little like this: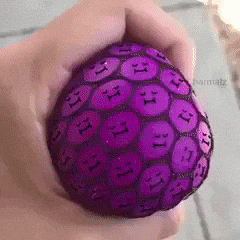 Buy the pack of 12 from Amazon for AED 69.
1. Some fluffy rainbow slime to take your mind off the outside world
Buy it from Amazon for AED 29.90 (down from AED 35).