Latest
Travellers: Cabin Baggage Is NOT Allowed So Store All Your Essentials In These 8 Compartmentalized Bags
Travellers: Cabin Baggage Is NOT Allowed So Store All Your Essentials In These 8 Compartmentalized Bags
As air travel is gradually opening back up amidst the ongoing COVID-19 pandemic, one thing to keep in mind when getting ready to board a plane is that cabin baggage is NOT permitted.
Although, you WILL be allowed to carry your laptop bag, handbag, briefcase and baby bag for essential baby items with you during the flight.
So travel smart with these 8 compartmentalized and sensible bags, that you can efficiently store all your in-flight essentials in an organised and no-fuss manner!
Thus, you'll be having none of this…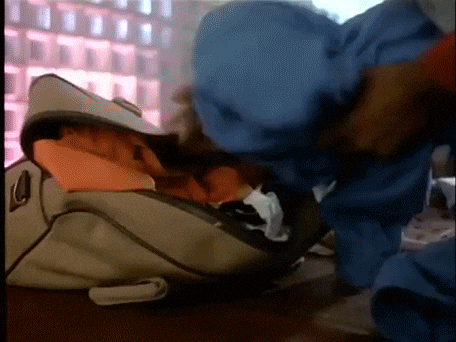 8. This Spacious Laptop Tote Bag for Women is your one-stop solution if you're big on organisation and order! With 3 layer compartments, this premium PU leather bag has a section for just about anything and errathing.
Promising review:
"The bag looks beautiful. Right like in the pictures of the website, rigid and spacefull! I'm very satisfied so far. Will update after using it for some time. It is easy to carry on the shoulder as well, so yes, ladies, if you need to carry a lot of stuff and want to look professional at the same, go ahead!
Buy it from Amazon for AED 180.99.
7. This slim and lightweight Nylon Waterproof Laptop Bag has countless compartments and a back pocket can be used as a belt to fasten onto your trolley suitcase, so you can have all your ducks in a row when strolling about the airport…
Promising review:
"100% perfect."
Buy it from Amazon for AED 170.99.
6. Store ALL your docs, paperwork, coins, passport, visa, stationery, chargers, tickets, wipes, accessories and etc. in a compartment of its own with this Unisex Rubik Crossbody Multi-Function Shoulder Bag!
Promising review:
"Very compact, yet very handy and useful especially while travelling with documents, laptop, passport, etc."
Buy it from Amazon for AED 65.00.
The baby tote bag features easily accessible side pockets and a wide main compartment with 2 inside pockets and insulated bottle pockets for all your baby needs and toiletries.
Promising review:
"This bag is quite large, so I purchased it to be my baby's travel duffel when we go on overnight trips. It is perfect for that! It is sturdy but lightweight, has multiple compartments for organization, and holds lots of stuff – several outfits and pyjamas, receiving blankets, muslin blanket, wipes pack, toys, etc. The outside pockets each hold a couple folded rec blankets or a small stack of diapers. There are insulated pockets inside and out. The changing pad is padded and a decent size. I like the blue and white stripes on the lining. The outside is durable and non-gender-specific. I might add a few flower patches to dress it up; it has a lovely blank canvas quality. It's a well-made bag. I'm very happy I bought it."
Buy it from Amazon for AED 288.79.
4. Not only is there storage space for your whole life in this Travel Laptop Backpack, but the bag is also made of water-resistant and durable polyester fabric! The bag ALSO comes with an anti-theft pocket for the protection of your valuable items. YAAAS!
Promising review:
"Great product as it was mentioned in the details. Highly recommended."
Buy it from Amazon for AED 115.00.
3. If your journey consists of a couple of stops before you reach your destination, then you might want to settle with this Shoulder Tote Travel Duffle Bag with a separate compartment for shoes! So you can easily store your extra pair of clothes and etc. for a smooth journey.
Promising review:
"This bag was perfect and is just what I am looking for! It's convenient and has many pockets for me to put in everything I need. The design allows me to separate shoes with other clothes which are awesome. Besides, this bag is also good for travel. Great product highly recommends!"
Buy it from Amazon for AED 169.31.
2. If you're looking for an efficient and spacious travel bag thas a bit more feminine and to your liking then this Durable Fitness Bag will do your needs full justice!
Buy it from Amazon for AED 68.00.
1. Apart from having a gazillion compartments, this Multi-Compartment Laptop Bag has an in-built shock-proof and waterproof foam that protects your electronics from impact force.
Buy it from Amazon for AED 168.00.