Latest
4 Quick Ways Soak In Some Vitamin D Whilst You're Self Isolating Indoors
4 Quick Ways Soak In Some Vitamin D Whilst You're Self Isolating Indoors
As we already know Vitamin D is needed for a number of health purposes, like to maintain strong bones, to absorb calcium, build immunity, promote brain health and etc. However, one of the BEST ways to get in some Vitamin D is by spending time in the sunlight that ironically Dubai has a lot of, but our current situation limits us (and to some completely terminates) the amount of time we spend out under the sun.
Although, apart from standing out in sun and gulping down expensive supplements, there are 4 super EASY and effective ways to quickly get in some Vitamin D in your mortal body when you're stuck indoors.
Tryinna get some of that Vitamin D during quarantine like…
#QuarantineLife.
(P.S. The coupon "AMAZON15" is valid for new customers till the 30th of April with a maximum discount of AED 50.)
4. If you're living in a space where limited sunlight enters your home, it's VITAL you get yourself this Portable Natural Light Therapy Lamp!
Now we have this Light Therapy Lamp, offers you brighter and whiter natural sunlight! Adopts full LED spectrum UV-free light, better helps you defeat the quarantine or winter blues, makes you full of energy in daily work and life.
Buy it from Amazon for AED 268.33.
3. Sit by your window and boost your Vitamin D intake as well as your mood! Get yourself one of these two highly purchased hammock cushions from Amazon to make your time by the window a relaxing affair…
Plus how great would these cushions look on your swinging hammock?? A two birds one stone kinda situation here.
When you finally see the light after 2 entire months…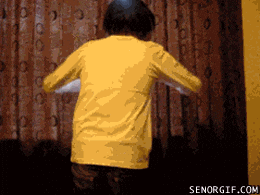 Burgandy Hanging Egg Hammock Chair on Amazon for AED 330.99.
White Orthopedic Memory Foam Cushions on Amazon for AED 418.15.
2. Gulp down glasses of quality OJ like never before!
Orange juice provides your body with an abundance of Vitamin C and D. So order yourself a couple of packs and stay stocked for the remainder of this quarantine period.
Promising review:
"Lovely fresh orange juice."
Buy 200ml OJ pack from Amazon for AED 2.33.
1. OR best of them all, squeeze up your own organic orange juice with this Clikon Dual Juice Extractor, and enjoy a nice glass of OJ without any preservatives, added sugar, or any other harsh chems!
This Juicer features a blade inside that helps you split your choice of Citruses into TWO!
Promising review:
"So far this orange juicer made me happy on how it's made it cut the orange alone and squeeze them so fast 60 oranges in 3 min that's too fast."
Buy it from Amazon for AED 89.