Latest
Egyptian Dreamboat Mohamed Ramadan Leaves Dubai In A Private Jet & It Looks Pure CLASS!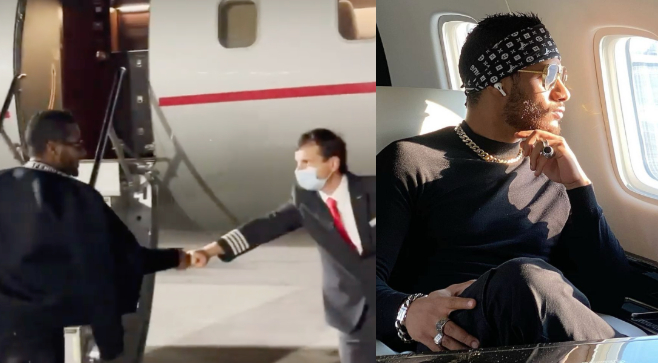 Egyptian actor and rapper Mohamed Ramadan has the left the building folks.
The star of several Egyptian movies and TV series, Ramadan was in Dubai working on several projects like his upcoming collab with, Bollywood actress and former beauty queen, Urvashi Rautela.
Mohamed Ramadan and wife Nesrine El Sayed Abdel Fattah board VistaJet together to Egypt on Tuesday, Feb 9
View this post on Instagram
While down in Dubai, Ramadan also released the first teaser of his new series "Moussa"
During the 26-second video, Ramadan and a group of men barge into the cabin of A British leader and destroy the furniture.
The story of "Moussa" which takes place in the 1950s through the 1960s, revolves around the journey of a man from Upper Egypt who lost his father at a young age and had to care for his younger siblings.
View this post on Instagram
Listen To The Lovin Daily: Private Parties Are Being Hosted In Dubai With Invites Being Sent Out Via Instagram
UAE authorities are reminding all visitors and residents in the country to wear their face mask when in public at ALL TIMES.
Those who fail to comply with the country's strict COVID-19 regulations will be subject to face a penalty of AED3,000.
Get yo'self this Reusable N95 Anti-Dust Face Mask with a filter for a price much, much less than what you might think.
Ensure your kiddos are safe and comf with this Fine Guard Kids Face Mask. Plus, the mask is designed to be super gentle on your child's face.
Go for a unique look with this 8822 Green Face Mask With Cool Flow Valve.

Note: This article may contain affiliate links. Lovin Dubai can receive a commission if items are purchased through a link from this post.